Earlier in the evening of September 10, 2019, the Spur and Coach Passage of the High Line looked so festive, my first thought was that is Cinco De Mayo! (It's my Texas roots speaking.)
But seeing all the glitterati that includes actor Michael B. Jordan, who is also currently the face of COACH, it became obvious to me that this is where its happening, where Creative Director Stuart Vevers will unveil the COACH Spring/Summer 2020 collection.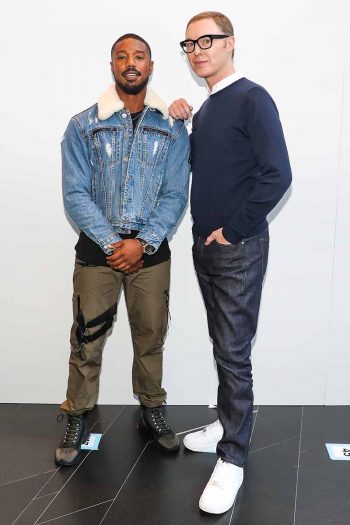 With Miles Heizer, Jemima Kirke and Lolo Zouai, who are each featured in the brand's Fall 2019 global advertising campaign sitting front row and Michael B. Jordan sitting with interns from his Outlier Society Fellowship initiative, Stuart Vevers sent 60 exits on the catwalk.
Building on the fact that this is the first collection for 2020, the start of a new decade, there was a feeling of urgency and change. Raw, authentic energy gave way to a bright collision of beginnings – past and present. Free spirits making their way across the High Line park in unapologetically practical sandals and sneakers.
Real, grounded, connected––open to the infinite possibilities of a fresh decade. 78 bags, each an archive design from one of the brand's 78 years, authentically re-mastered. The brand's heritage graphically subverted with vibrant color, the electric attitude of New Wave––and today's new New Wave.
The energetic pop illustrations of Richard Bernstein playfully juxtaposed with Coach's strong, straightforward leather-goods heritage. A purposeful synthesis of stripped-back and upbeat. This vivid, reimagined past, as dynamic as the city it's made for.
The Spring 2020 Coach runway show took place on the Spur and the Coach Passage on the High Line. The Spur features the High Line Plinth, the first site on the High Line dedicated solely to a rotating series of new, monumental, contemporary art commissions.
The inaugural piece is titled Brick House by Simone Leigh, who was also in attendance at the show along with Robert Hammond, co-founder and executive director of the Friends of the High Line. In honor of the show, the brand made a donation on behalf of each of the guests to the High Line's Adopt-A-Plant program.
Key models who walked in the show included Kaia Gerber, Julia Nobis, Adut Akech, Abby Champion, and brand ambassador, Kiko Mizuhara.
Photos courtesy of COACH