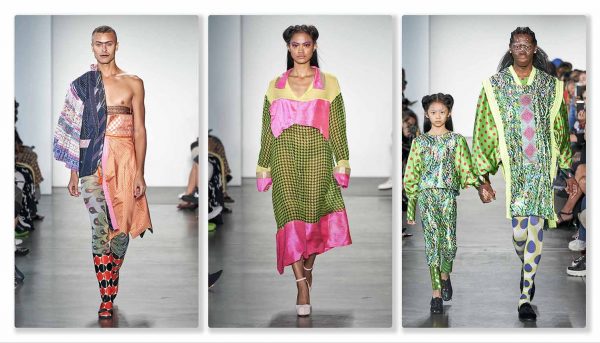 Into an ambient atmosphere came the latest collection from Chinese brand MRHUA MRSHUA by NiuNiu Chou. 'Male left female right of MIX' was a fitting name for artistic designer NiuNiu Chou's Spring/Summer 2020 collection as a multitude of male and female silhouettes poured onto the runway from an array of cultural influences.

Exaggerated fabrics, layers and abstract prints were seamlessly coupled with a vibrant colour palette lending a feast for the senses.

Designer NiuNiu Chou integrated diverse cultural and ethnic elements along with a fusion of pop art influences with contemporary styling. Elegant silhouettes were contrasted against distinctive and exaggerated shapes in fabrics such as iridescent silk, and intricate embroidery.

Fabrics were as unique as the decorative trimmings that adorned the shoulders and feet of the models. The theme of genderless, seasonless and timeless style ran through the collection with the fusing of male and female designs into one seamless entity.

America's Next Top Model's former host and television star Miss J Alexander (pictured above and below) also walked the runway in a plethora of striking and spectacular layers, mish-mashed recycled fabrics and futuristic makeup.

NiuNiu offered a fresh perspective on the traditional runway show, staying true to his mission to reinvent garments by reversing the laws and genders of fashion.

The finale featured a dazzling patterned green fabric in a joint parade by Miss J Alexander and a child model. In a united display of identical outfits, the aesthetic reinforced NiuNiu's theme of a boundaryless collection; universal for all to wear.

NiuNiu Chou's dedication to promoting Chinese fashions diverse cultural origins in a genderless form rang true in this SS20 collection.