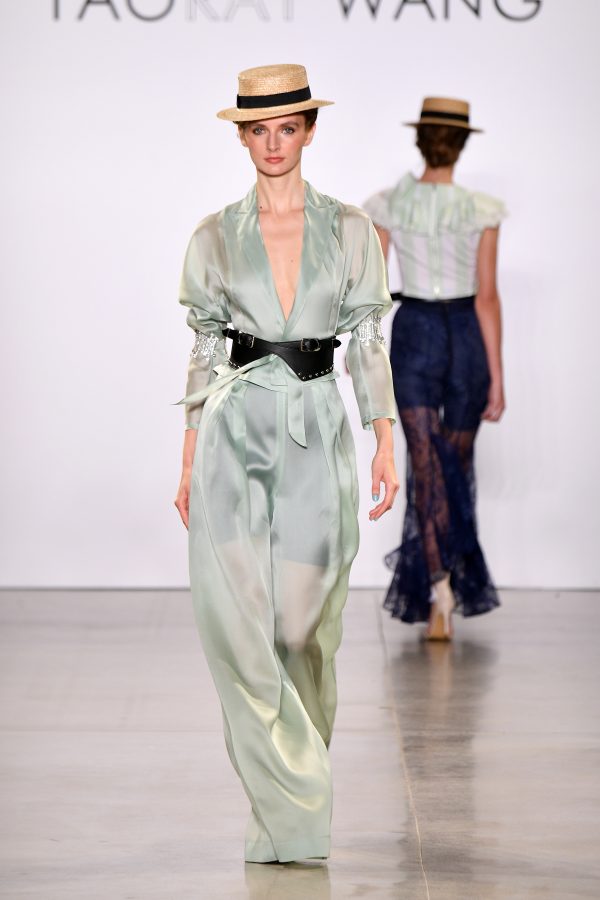 TAORAY WANG opened NYFW shows with the Spring Summer 2020 collection featuring tailored suits in sheer mint greens, oversized sleeves with jewel embellishments, black lace, and monochormatic prints.
Sidonie-Gabrielle Colette, the renowned author, is the inspiration for the TAORAY WANG Spring Summer 2020 collection. An independent, fearless woman living in the war era, Colette led a sensational life of love and rebellion. The challenges never broke Colette's spirt or stopped her voluminous output, which furthered the women's empowerment movement.
From a girl in Burgundy who dressed for the countryside, Colette eventually emerged as an exquisite Parisian lady who dared to break taboo by appearing in public in a three-piece suit.  Colette's spirit and style that inspired WANG Tao, the founder, designer and CEO of TAORAY WANG, in her design of 20SS TAORAY WANG 'Wild Beauty, Intractable Myth'.
The women's suit is a Tao signature, and she has made it a staple in modern women's wardrobes. Contrary to tradition of the suit masking femininity, the designer considers it a fashion statement that exudes the charm and power of women.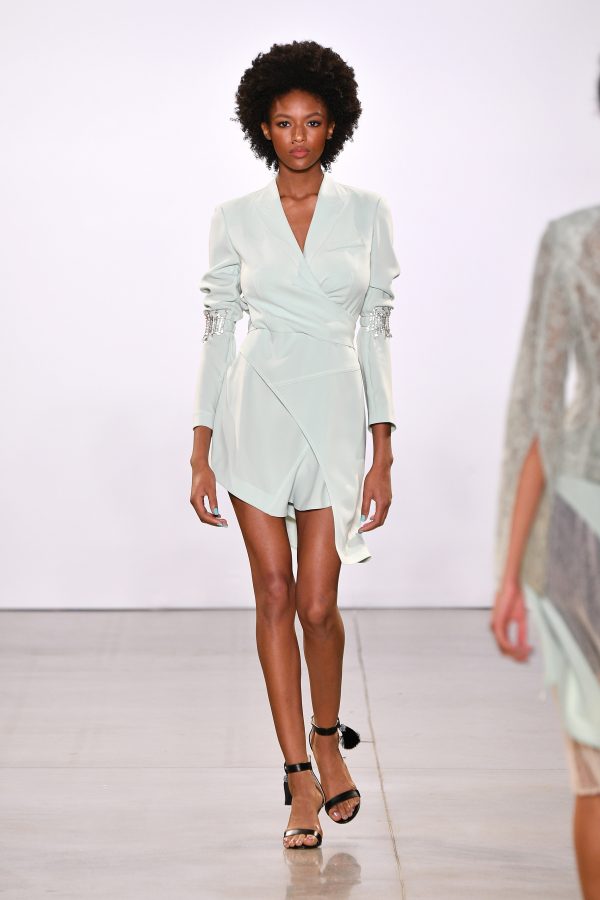 Spring Summer collection highlights include fresh mint green meets classic black and white, lace collides with cashmere, delicate falbala meets hard stripes, off-the-shoulder contrasts with punk elements and graceful bowknots offset charming silhouettes. These elements,  which emphasize the power and confidence of women, are a departure from the traditional masculine Power Suit. Season after season, TAORAY WANG strives to break the rules in design, creating an image of exquisite female leadership.
ABOUT THE DESIGNER:
Wang Tao, hailed as "the Queen of the Suit" is one of China's most celebrated and accomplished designers and a pioneer of contemporary Chinese women's fashion. Over the past two decades, the Institute Tokyo Mode Gakuen graduate, has grown from an aspiring designer to one of Asia's most successful female entrepreneurs, launching her namesake brand TAORAY WANG at New York Fashion Week in September 2014.
Known for her fine tailoring, chic silhouettes and exceptional textiles, TAORAY WANG's fans include Tiffany Trump and have been featured in many top publications including Women's Wear Daily, The New York Times, The Los Angeles Times, W Magazine and Vogue China.
The TAORAY WANG collection is sold to exclusive clients throughout Asia, Europe and the USA. In addition, the brand which has showrooms in Shanghai and London, is scheduled to open its first US store and showroom in New York City's SoHo next year.