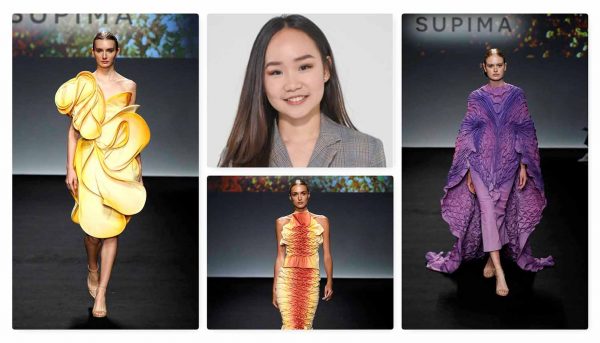 As with most young girls growing up, Illene Martoseno loved to play dress up and draw. But her hobbies soon grew into a passion and Martoseno decided that a career in fashion design was the only path to bring her creativity to life.

After taking some drawing and sewing classes to hone her skills, Martoseno knew she wanted a career in fashion and at the suggestion of a friend she decided to enroll at the Fashion Institute of Design and Merchandising in Los Angeles to help her achieve her goal to becoming a fashion designer.

Martoseno was short-listed as an IFFTI Design Competition finalist held in Manchester, UK and participated in the IFFTI fashion show. Her design specialty focuses on high-end women's wear, creating confident, brave designs.

For her Supima Collection, Martoseno theme is Transcendent, transforming the fabric to go beyond its range and limits in an effort to create three-dimensional textiles.

Courtesy Supima
Started in 2008, the annual Supima Design Competition was created to give runway exposure to emerging talent and was modeled on the legendary 1954 Wool Secretariat competition that launched the careers of the then-teenaged Yves St. Laurent and Karl Lagerfeld. Since its start, former Supima Design Competition winners have gone on to launch their own labels, show at New York Fashion Week, and secure jobs with top international labels including Michael Kors, Marchesa, Ralph Lauren and Phillip Lim.