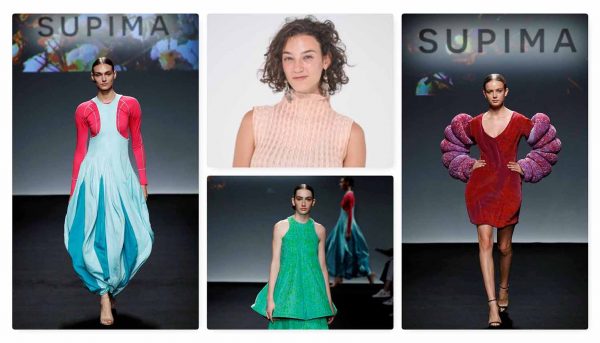 A recent graduate of the Rhode Island School of Design, Isabel Hajian has been interested in fashion since the age of five. Not quite sure what spurred her interest, Hajian was sure of one thing, that she would dedicate herself to learning the ways of fashion design. So Hajian set out to do just that, she taught herself how to sew by age twelve, took fiber art classes in high school and enrolled in garment construction classes at MassArt and the School of Fashion Design in Boston.

Hajian chose to attend Rhode Island School of Design where she could surround herself with likeminded students and explore other mediums that would help her to become a stronger fashion designer. Hajian likes to focus on fabric transformation for her designs by manipulating, dyeing and printing fabrics to create something entirely unique.

Hajian's Supima collection is inspired by kids playing dress-up as a means of expression. With an emphasis on color and form, Hajian lets the fabrics speak to her so she can bring them to life through her designs.

Courtesy Supima
Started in 2008, the annual Supima Design Competition was created to give runway exposure to emerging talent and was modeled on the legendary 1954 Wool Secretariat competition that launched the careers of the then-teenaged Yves St. Laurent and Karl Lagerfeld. Since its start, former Supima Design Competition winners have gone on to launch their own labels, show at New York Fashion Week, and secure jobs with top international labels including Michael Kors, Marchesa, Ralph Lauren and Phillip Lim.