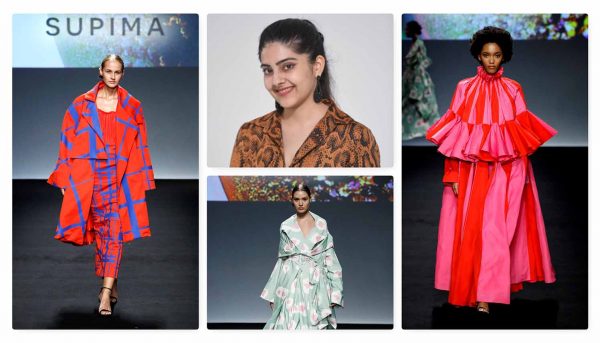 A recent graduate of the Fashion Institute of Technology, Ishwari Vijh learned about fashion in her hometown of Jalandhar Punjab, India and realized she wanted a career in fashion. With a little help from Grandma teaching Vijh some sewing basics like threading a needle, Vijh was left to figure the rest out for herself.

While attending a leadership workshop in Ireland during her junior year, Vijh learned about the Fashion Institute of Technology from a friend and hasn't looked back.

In addition to studying fashion design, Vijh took the opportunity to study Art History as way to become a stronger designer by broadening her vision and being inspired by the past. Vijh focuses on women's sportswear with her design approach coming from a very organic collage format. Her biggest strength is balancing colors and prints together.

Vijh's Supima collection is inspired by her own work over the past few years. Using her life as a narrative, Vijh's collection explores her struggles with dissociation and derealization.

Courtesy Supima
Started in 2008, the annual Supima Design Competition was created to give runway exposure to emerging talent and was modeled on the legendary 1954 Wool Secretariat competition that launched the careers of the then-teenaged Yves St. Laurent and Karl Lagerfeld. Since its start, former Supima Design Competition winners have gone on to launch their own labels, show at New York Fashion Week, and secure jobs with top international labels including Michael Kors, Marchesa, Ralph Lauren and Phillip Lim.