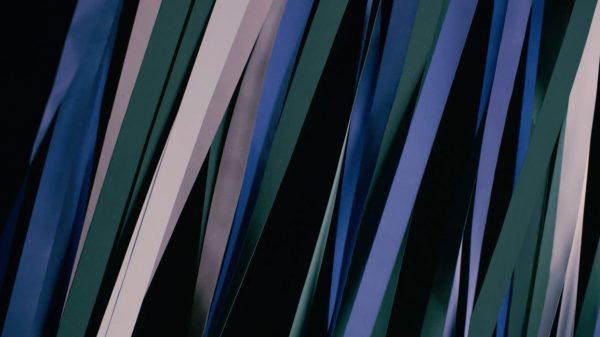 Ermenegildo Zegna's Fall/Winter 2020 collection, "Art for Earth," was presented in Milan last Friday. Accompanied by a hashtag, "#UseTheExisting," the latest collection eloquently touches on something the fashion industry is laser focused on right now—reducing, reusing, and recycling materials for a more sustainable future.
Guests in attendance arrived at an industrial space, and were first greeted to a set designed by Burea Betak—a dark, geometric, and sophisticatedly sustainable forest of ribbons that drew all eyes in. Devised in collaboration with multimedia American artist Anne Patterson, the set's was made entirely of leftover Zegna materials. "Art for Earth" goes beyond a temporary show installation, too, as it encourages visitors to explore fashion's greater meaning and is on view to the public through January 31.
As the lights dimmed, spotlights highlighted the suspended, transparent cube, while models made their way through a door-like entrance between ribbons. For Fall/Winter 2020, Ermenegildo Zegna XXX—the brand's experimental workshop and label—focused on capturing the spirit of the season. Artistic Director Alessandro Sartori focused on tailoring, but this time accentuated new details and utilitarian aspects of clothing for an expressive and outgoing lifestyle.
Another experimental facet was a focus on the materials in the collection, furthering the #UseTheExhibition approach. Natural and synthetic fibers were mixed together to create an array of patterns, such as a macro check, jacquard, moiré, and digital landscapes rendered in print. Recycled cashmere flannel lent to this new innovation, too, as was calf leather that was laser-patterned, hand-cut, printed, distressed, and tumbled. New for the collection, as well, was a series of hand-woven textiles that were developed in the san Patrignano community.