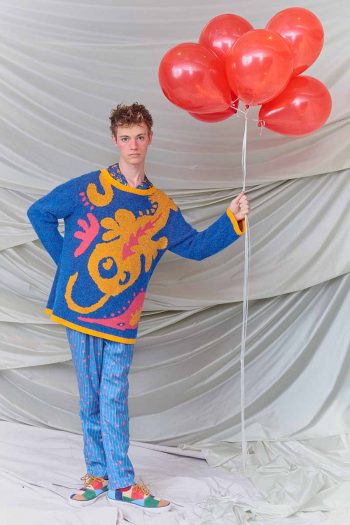 Titled "The Twink Prince," London-based gender-fluid label Ka Wa Key Fall 2020 collection debuted on February 3rd at 450 W 31st Street under the banner of New York Men's Day.
Inspired by the classic novella "The Little Prince" by French writer Antoine de Saint-Exupéry, design duo Key Cho and Jarno Leppanen thought "twink" was appropriate perhaps in reference to the stars because The Little Prince told the aviator that each time a star twinkles, he (the Little Prince) was laughing.
Crafting a playful collection, Ka Wa Key experimented with childish prints and soft textured knits, all garments are constructed of high quality and mostly sustainable materials. Like de Saint-Exupéry's novella this collection explores life and human nature.
Giving a nod to ethical fashion, Ka Wa Key utilized traditional textile crafts and sustainable textiles to reimagine and rework everyday casualwear.
Key Cho and Jarno Leppanen also drew influences from their roots of the Asian and Scandinavian aesthetics, telling a unique story based on their unique vision.
Fall 2020 is the 4th time that Ka Wa Key is showing at New York Fashion Week. Currently part of the Royal College of Arts Creative Brand Accelerator Program, Ka Wa Key has been praised for its interesting fabrications, soft design language and artistic presentation concepts.
Photos by Hunter Arthur, courtesy of Ka Wa Key