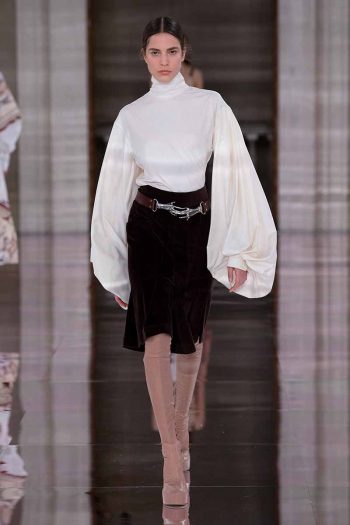 In her own words… Victoria Beckham press notes for her Fall/Winter 2020-21 unveiled Sunday, February 15th at London Fashion Week.
This season I was thinking about the tension between refinement and rebellion. I was inspired by different ideas of women – different characters, different moments and different attitudes – but with no restrictions. The overriding sentiment that we don't have to follow the rules. We can follow our instincts. Be spirited.
The silhouette has evolved with a newness, a freshness. Shorter abbreviated proportions feel different and right for now. I wanted to explore how to honour tradition but challenge convention. To be subversive yet still sophisticated. Classic heritage fabrics are rethought, shapes and combinations are remixed with a new spontaneity and playfulness.
The collection is about staying true to ourselves and our woman, but still surprising her, and us. Twisting our codes. This is what I call my gentle rebellion.
Victoria Beckham
Photos courtesy of Victoria Beckham