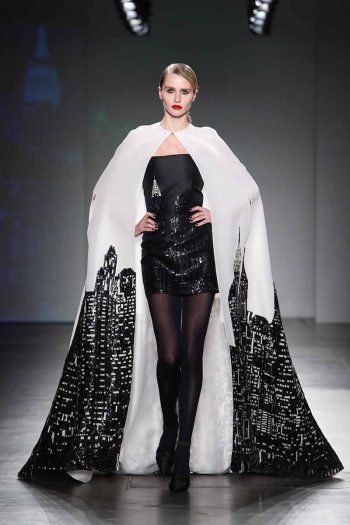 With the runway was still dark, the first bars of "Empire State of Mind" playing, then Alicia Keys crooning "New York, concrete jungle where dreams are made of…" there was no doubt that the Zang Toi Fall/Winter 2020 collection is an homage to New York City.
So, when the lights were turned on and the opening look – black French lacquer leather capelet jean jacket coordinated with black French suede strapless jump shorts with zipped drop-pocket – was revealed, the statement was clear.
"Alluring, urbane and sophisticated with a little bit of grit" – that's what this collection is all about. It's a declaration, even an assertion. To emphasize that, Zang Toi followed it with 32 more looks that were luxurious as they were glamourous.
The black and gray color palette was interspersed with pop-art red, pink, orange blue and the signature taxicab yellow. Zang who is an accomplished colorist knows exactly how much color to use to accentuate vibrancy without being overt. It's ingenious.
From cardigans in cashmere to trench coats in leather or wool, to belted coats with fur collars, blouson jackets and peacoats, they are the essentials for the season. Or as they say in French, they are doit avoir.
New this season is Zang Toi's first foray into logos as he put his initials Z T on a silk blouse. With the graphic done as a pop art, it was easy to miss the initials, but they are there and once you see it, you cannot unsee it.
Though the logo was not hidden, its presentation was also very subtle, thus making it highly covetable because it became a collector's item that moment it hit the runway.
Everything is lovely and the final 6 pieces which included the grand finale showcased hand-beaded iconic New York landmarks – Hearst Tower, Brooklyn Bridge, Trump Tower and the New York skyline.
These artistic renditions of these familiar New York sights can only be described as wow! From that, you can add other superlatives.
To quote Zang, "the 'New York New York' collection was inspired by the city that I fell in love with the very first day that I arrived here 38 years ago."
There you have it – the designer's declaration of love to the fascinating city that nurtured him.
Photos courtesy of Zang Toi