VIA: Asaf Rotman
Referring to Chrome Hearts as a "luxury" label is a tad awkward, considering founder Richard Stark hates the term. The way he sees it, luxury is simply a phrase the fashion industry throws around to espouse superiority and exclusivity, as opposed to his and his family's main concern: craftsmanship and control. Still, if any U.S.-based brand deserves the title of American luxury, it is inarguably them. From a homegrown business to a purportedly billion dollar enterprise, Chrome Hearts rivals any American luxury goods business in both sales and scope.
LA's equivalent to Ralph Lauren, Chrome Hearts is the City of Angels personified, glitz, glam and Hollywood rock n' roll rolled into one. Yet, despite a sizable retail footprint and vastly diverse clientele, it is an oddity, avoiding press, the fashion calendar and e-commerce altogether. In an era where brick-and-mortar retail is struggling, Chrome Hearts is doubling down, with plans to open multiple flagships and department store shop-in-shops over the next year despite a sluggish economy and increasingly bleak in-person shopping environment. Stranger still, the brand is committed to an in-store only approach, even when labels as vaunted as Chanel, Dior and Hermès have all caved to the demands of online shopping. Going against the industry, however, is business as usual for Chrome Hearts.
For more than 30 years, the label has—to borrow a phrase that adorns its clothes and stores—said a big, "F**k You" to well, everyone, and done whatever it pleases. Given the surging demand, endless collaborations and near universal respect, it's clearly working.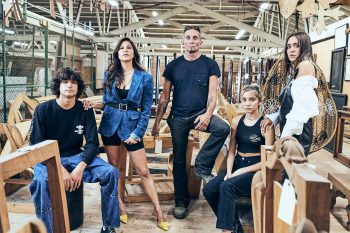 Although synonymous for its intricately designed and often exorbitantly priced jewelry, the company began as a simple leather manufacturer. In 1988, Stark and two friends, Leonard Kamhout and John Bowman, set out to create clothes for themselves and their motorcycle buddies to ride in. Stark, then a premium leather dealer, sourced materials while Bowman handled production. Kamhout, a trained jeweler whose preferred medium was sterling silver, fashioned sterling hardware and the first collection was born.
Even before the brand had a proper name, its tough leather pants and perfectos were a hit amongst the motorcycle crowd. Surprisingly, it was an unexpected gig doing costume design for a B movie, Chopper Chicks in Zombie Town, that pushed the fledgling brand into the fashion sphere—and helped Stark finally land on a name. One of the actors, a then-girlfriend of Sex Pistols lead guitarist Steve Jones, introduced Stark to the musician, who immediately became a fan. Jones began to wear Stark's designs on stage, while Stark named the brand after the film's working title, Chrome Hearts. Shortly thereafter, Stark and company opened up the first Chrome Hearts store in LA's Skid Row. Soon, buzz began to spread.
Lenny Kravitz, Guns N' Roses, Aerosmith and Cher were all early clients, as was Laurie Lynn, an art director who commissioned Stark to design a series of swimsuits. Within a few months, the two were married, and Laurie Lynn Stark joined the business, overseeing photography, marketing, press, ready-to-wear and all the other business necessities that Stark had no apparent interest in.
In 1991, Stark bought his partners out of the business, with his wife quickly assuming a more formal role. By then, Chrome Hearts had expanded dramatically, well beyond leather goods. Jewelry—formerly Kamhout's area of expertise—became the focus (and largest revenue stream), while Stark explored other avenues including furniture, home goods and even custom work ranging from pool tables to private jet interiors. Though incredibly difficult to track down, the label became a massive hit in the Asian market, where the Hollywood rock n' roll lifestyle was particularly glamorized.
Although embraced by the fashion set, Stark and his team remained at a safe distance; Stark focused on carpentry and the increasingly intricate Chrome Hearts retail stores, while Laurie Lynn slowly grew the fashion side of the business—introducing a best selling sunglasses line and a (somewhat) annual magazine. In 1992, the brand was finally recognized by the fashion world and Stark was awarded the Council of Fashion Designers America (CFDA) prize for Best Accessories Designer. Stark was pleased—if perplexed—and when told he could pick any celebrity of his choosing to represent him, he and his wife chose Cher. A few weeks later, following the fitting of a now-infamous custom outfit, Stark was shocked to learn that Cher was set to present him the award, not accept it for him. Stark announced he had no intention of showing up, partly because he had no idea who the CFDA were. His no-show status only fueled the flames, and Chrome Hearts renegade reputation was solidified.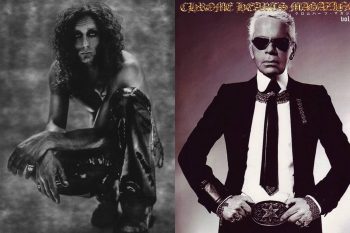 The following years were a period of rapid growth. The same year as the CFDA award, legendary LA boutique Maxfield's began carrying the brand, first just a small collection of leather Perfecto jackets. Eventually this expanded into an entire range of products, including jewelry and store-exclusive items. The brand was so successful with Maxfield's rarified clientele that, for years, the official LA flagship stood directly opposite Maxfield's West Hollywood boutique—it is now around the corner, off Robertson Avenue.
In 1996, the Starks opened the first official Chrome Hearts flagship in New York. Located at 159 E 65th Street in Manhattan's Upper East Side, the store was, as far as retail is concerned, in relative no man's land. Two avenues off of the Madison shopping district and nearly 10 blocks south of the main luxury strip, the store was a destination, reserved for those who knew it was there. Of course, like all Chrome Hearts stores since, the interior was entirely custom, featuring engraved ebony wood and sterling silver furnishings that were sure to shock anyone familiar with traditional Uptown luxury. It was grunge, loud and in your face. Surprisingly, New Yorkers loved it, and everyone from Rei Kawakubo to Karl Lagerfeld and even Tom Ford frequently stopped by. Within a matter of years, the store relocated to its current space on Madison avenue, a closet-sized nook with an astronomical rent and some of the most prized jewelry in the city.
Though boasting a growing retail footprint—the brand was available at Bergdorf Goodman and opened its first Japanese store, the Aoyama, Tokyo flagship, in 1999—the Starks maintained strict control, ensuring a certain barrier to entry. Instead of rapid expansion, the founders focused on partnerships and projects they themselves were passionate about.
In 2002, without either Richard or Laurie ever actually meeting a member of the band, Chrome Hearts inked a deal with The Rolling Stones. Apart from designing custom tour gear—including a $40,000 gold and diamond belt buckle for Mick Jagger—the collection included a series of "Tongue and Lips" trucker hats, T-shirts, hoodies and jewelry, all mixing in the label's gothic typeface with the world famous logo. As the Stones toured the world, they carried Chrome Hearts with them.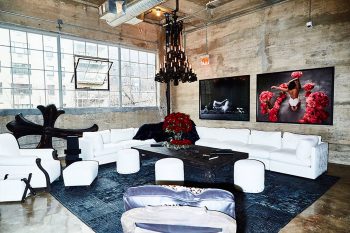 The Rolling Stones collection was the first of a string of wildly diverse and equally impressive partnerships, ranging from Comme des Garçons in 2004 to Yves Saint Laurent in 2006 and even BAPE in 2009. Alongside official releases–don't call them collaborations, Richard Stark detests the term, preferring to simply "work with friends"—were a number of unofficial pieces gifted to the label and remade in its image, including Gareth Pugh silver studded heels and the insanely coveted Rick Owens "Chrome Hearts Dunks." Though these items are not officially licensed, considering the Starks are close friends with everyone they work with, there is an air of legitimacy that makes them equivalent.
While the range of partners seems extreme (if somewhat random), there is a method behind the madness. Unlike a traditional luxury label, Chrome Hearts operates entirely by gut instinct. If a friend or peer is doing something interesting and working together feels natural, they simply do it. That's why the store is just as likely to carry python covered Geobaskets as a sterling silver plunger. What the Starks truly care about is craftsmanship, honesty and connection. If something makes sense, they go for it, no matter how long it takes or how complex the final product. In a world of endlessly unnecessary collaborations, this approach is not only refreshing, it sets the label apart.
Although the core customer was still LA-bikercore well into the 2000s and 2010s, through these high-fashion and streetwear collaborations, Chrome Hearts clientele rapidly evolved, leading to surging demand and revenue. Throughout the 2000s, Chrome Hearts expanded both within and outside the U.S., building a notable retail presence in Asia with 10 stores in Japan alone and another 10 throughout China, Korea and Taiwan. Add to that shop-in-shops at more than a dozen department stores throughout the region—including Dover Street Market locations—and you start to get an idea of how truly massive this business has become (and that's not even counting Europe). The most amazing feat, however, is that up until recently, Chrome Hearts was entirely independent. While the Starks are notoriously press averse (even more so in regards to sales), Business of Fashion reported that at some point in the last few years the Starks sold a 10 percent stake to a private equity firm for roughly $150 million, for a $1.5 billion evaluation. For reference, Michael Kors' Capri Holdings bought Versace for $2.1 billion in 2019. For a clothing and accessories brand that is not even available online, that is staggering.
The heart of this business is the Hollywood campus. Spread across more than a dozen buildings in Hollywood, the "factory" is in fact part-furniture workshop, part-leather working facility, part-gold and silversmith, part-dye house, part-printing and part-sunglass production facility; the label bought back its license rights a few years ago in order to have more control over its most lucrative product. Even perfume and custom hinges are developed on-site.
This vertical integration is precisely what allows Chrome Hearts to uphold its ludicrous standards. While the brand does source some materials from abroad—Loro Piana cashmere and French crystal with Baccarat—anything it can make itself, it does. To this day, nearly everything the brand makes (apart from special order items) are made at the Hollywood factory. No matter which store you visit or piece you buy, chances are it started in Hollywood. Very few brands can claim as much.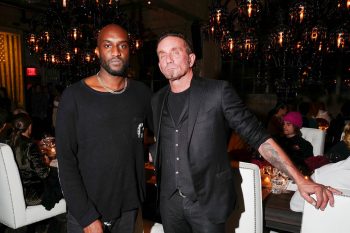 Though now readily available—for those that can afford it—Chrome Hearts is still elusive due to two main factors: lack of ecommerce and absence of press. Though the brand does technically release two ready-to-wear collections a year as well as countless store and regional exclusives, it has never participated in fashion week or even released a seasonal lookbook. Every year or so the brand does release a magazine with models styled in seasonal wares, however the magazine is off-season, inconsistent and only available in-store anyways. As a press tool, it's essentially a moot point.
Even when the brand does come in proximity to the established fashion system, including parties at Paris Fashion Week or a runway presentation with Naomi Campbell's Fashion Cares initiative, it is always under its own terms, with almost no media presence and few if any images released to the public. To that end, it took Laurie Lynn and Richard Stark's daughter—Jesse Jo's (now company vice president)—convincing to even create a brand Instagram, as both parents wondered why they even needed one. The brand is still so committed to its outsider status that it refuses to adopt industry standards, even when the result is demonstrable financial gain. Though, in its defense, if this reclusive policy has worked so well thus far, why would it change?
As for e-commerce, as recently as last year the three Starks in charge all stated that online sales were still entirely off the table. While five years ago this would not have seemed so extreme (particularly in the premium luxury sector) today, it's sheer madness. Of course, there are some holdouts—Chanel still does not offer ready-to-wear online, Hermès only sells a small fraction of its seasonal offering—but these brands are growing fewer and farther between. Further, these vaunted houses are not reliant on clothing sales and have a massive beauty and accessories business propping them up, both of which are readily available online.
For Chrome Hearts, whose number one category is jewelry, there is no such business to speak of. Everything is in-store, including wholesale stockists who are expressly forbidden from selling anything online (Selfridges exclusive Chrome Hearts perfume being the only exception). The commitment to brick-and-mortar is staggering. What's more fascinating, however, is the magnitude of success.
Every Chrome Hearts store is slightly different, with custom interiors, location specific architecture and a product mix wholly unique to itself. Even the two New York stores (Madison Ave and West Village, respectively), despite some crossover, contain predominantly distinct collections, accessories, furniture and even clientele. When the first Off-White x Chrome Hearts collaboration dropped in 2015, for instance, the Starks considered location and regional consumer when choosing which stores stocked what. The West Village store, which is drastically larger and has a much wider selection of ready-to-wear, received the entire drop, while jewelry-centric Madison Ave was left out in the cold. The reason? Younger people shop downtown. Given this straight-up approach and widely specific clientele, it makes sense that Virgil Abloh chose to debut his inaugural Louis Vuitton collection there.
The new West Village outpost feels hip and current, because—even though Chrome Hearts has made the exact same product since the late-'80s—younger Chrome Hearts fans shop there, the exact sort of clients Abloh hopes will wear his latest collection. In Abloh's eyes, Chrome Hearts is just as much luxury as the epitome of French fashion. That overlap is a sign of success. His first Louis Vuitton collection flying off the warehouse space shelves was, as far as he was concerned, was the ultimate co-sign. Unveiling a $15,000 collaborative two-piece "cracked" wooden bench with Chrome Hearts engraving and hardware was just icing on the cake.
Though Chrome Hearts tends to stick to its methods, the label is flirting with the next generation. The Stark's youngest, 16-year-old twins Kristian and Frankie, both work in the family business and each has a brand of their own. But even for these internet natives with sizable followings all their own, the idea that, in order to buy Chrome Hearts you still have to go to Chrome Hearts, still holds weight. That said, Laurie Lynn is considerably more open than she once was. Her personal Instagram is littered with new Chrome Hearts products and behind-the-scenes development from the brand's 250,000 square foot campus. No doubt due to Jesse Jo's influence, this newfound openness to social media is not so much to raise awareness or hype—the brand clearly already has more than enough—but instead to drive younger customers into the retail shops themselves. For those who cannot afford the label, one of the three children's lines which also dots the shelves should suffice.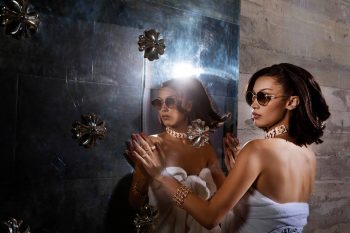 If anyone deserves credit for the new generation of Chrome Hearts fanatics, however, it is clearly Jesse Jo. Beyond her well-documented friendship with one Bella Hadid, Jesse Jo introduced her parents to former boyfriend and current Chrome Hearts artistic/creative director Matt DiGiacomo (aka MattyBoy), whose illustration-strewn creations are a hit amongst younger customers.
While DiGiacomo's contributions are noteworthy, they pale in comparison to Hadid, who began hanging out at the label's Hollywood compound as a teenager. Eventually, she formed a close bond with the entire Stark family, not only wearing the clothes but working on multiple capsule collections under the CHROMEHEARTS+BELLA imprint, including sunglasses, handbags and leather mini skirts. Hadid became the de facto face of the label, modeling in various sunglass ad campaigns and always appearing in the yearly magazine. It was all Jesse Jo's doing. While Richard and Laurie Lynn commit to pleasing decades-old fans and celebrity clients, Jesse Jo is focusing on the future.
Part of this future is investment. In 2014, Chrome Hearts bought a minority stake in cashmere-focused knitwear brand The Elder Statesman helping designer Greg Chait expand his production facility and open his first retail store, something the company is more than familiar with. Pair that with roughly $100 million in Malibu real estate purchased over the past decade and the Ralph Lauren comparisons quickly start to materialize.
Richard Stark envisions the label on par with Hermès or Chanel, a 150-year-old family business that personifies everything he and his family is passionate about. Yes, it's black, leather, silver, jewels, Hollywood boulevard and Calabasas sunsets, but more than that—it's craft. It's investing in new methods of production; not simply more graphic T-shirts, but new product lines, categories, and avenues.
After releasing a store exclusive Vespa, Laurie Lynn said she was approached to design a floor of SoHo house. Her response? "Give me the whole thing." This unwieldy attitude is American Luxury. And American luxury is Chrome Hearts. You don't have to like it, but you damn well should.