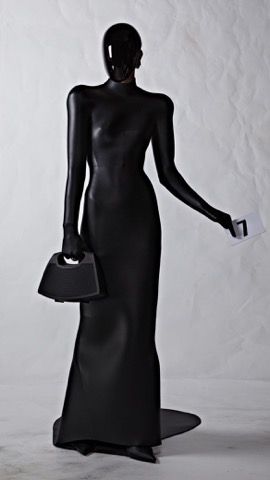 Balenciaga's Couture show – the second under Demna's direction – was the 51st for the French fashion house. The event coincided with the reopening of the historic shop located at 10 Avenue George V, where the brand first opened in 1937 and closed 31 years later. If with the Fall Couture 21 show Demna had shown that he could free himself from the stigma of being a designer associated exclusively with sweatshirts and trainers – haute couture denim and taffeta had succeeded in recreating a connection with Cristobal Balenciaga's heritage – with this collection he managed to give further authenticity and coherence to his very personal narrative.
Halfway through the show, there was a transition from the shiny black Daft Punk-style masks that opened the show and turned the models into anonymous mannequins, to the dramatic dresses worn bare-faced by celebrities of the calibre of Nicole Kidman, Kim Kardashian, Naomi Campbell, Dua Lipa and Edward Camavinga. Demna's approach to the well-known faces of the star system has always been a mixed bag of cynicism and idolatry: from the long-standing collaboration with the (former) Mr and Mrs West to the choice of Isabelle Huppert for the last Couture, celebrities have long been an integral part of the strategy to make the Balenciaga world an integral part of mainstream culture.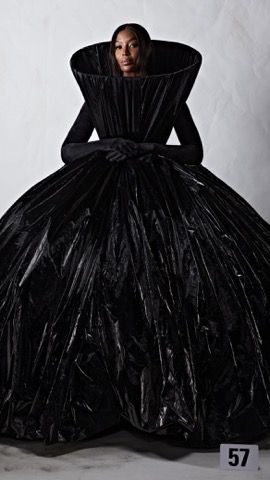 Craftsmanship and technological innovation meet in the collection: the first total looks are in Japanese neoprene, with 3D printed padding and wetsuit-inspired zips, while the polyurethane masks were designed by Mercedes-AMG F1 Applied Science, a division of Mercedes-Benz Grand Prix Ltd. T-shirts have been internally lined with aluminium to maintain the 'deliberately wrinkled' effect and the faux fur is achieved by high-definition photographic mapping and weeks of programming, while the dizzyingly narrow waist in the men's looks is ensured by corsetry, incorporated into the wool tops and coats. Everything else – bomber jackets, parkas, coats and vintage jeans – has been deconstructed and reassembled from used clothing, transformed through an upcycling process into entirely new garments, as in the case of the Helly Hansen and Alpha Industries bomber jackets, revisited according to Balenciaga codes.