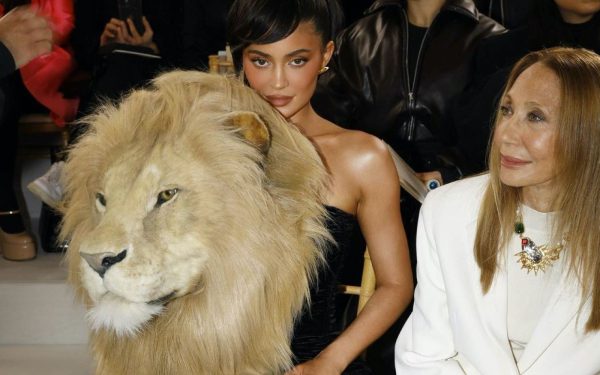 In the basement of the Petit Palais in Paris, a woman armed with a feline smile is approaching the front row of the Schiaparelli fashion show. Under the flashlight of photographers and influencers, she strokes the lion's mane under her chin with one hand. The dress Kylie Jenner is wearing, designed by Daniel Roseberry, is a black velvet sheath dress with corset fastenings and is part of the Spring Summer 2023 Haute Couture collection that is about to be presented on the catwalk. Until then, neither Jenner nor Roseberry were aware of the furor of controversy that was about to be hurled at them, nor could they have foreseen the support of a charity like PETA. 
During the show, a variant of Jenner's dress is worn by Irina Shayk, completing the trio of costumes inspired by the leopard, the lion, and the she-wolf from Dante's Divine Comedy, a central reference point of Roseberry's designs. The three outfits were sported by three industry icons: Naomi Campbell, Shayk, and Shalom Harlow. Although Doja Cat, covered in red make-up and 30000 Swarovski crystals, attracted several astonished stares, it was Kylie Jenner and these three looks that remained the center of attention, causing outrage on Instagram. «Real or not, it promotes animal cruelty», «Grotesque. Irreflective. Pointless» and again «This isn't art, it's just being lazy». The heads, only apparently stuffed, are nothing more than works of mock taxidermy, constructed from foam, wool, and silk faux fur. "Manmade materials", as Jenner put it. 
Judging from the comments section on Schiaparelli's Instagram page, it seems like Roseberry's mission was successfully accomplished, but apart from the accuracy of the couture animal depictions, other perplexities arise. Was the controversy premeditated? Or was it just a calculated risk? In the event that the haute couture house did indeed devise a plan to ignite polarising conversations on social media in order to remain relevant during this month that teems with fashion shows, they were proven successful nonetheless.