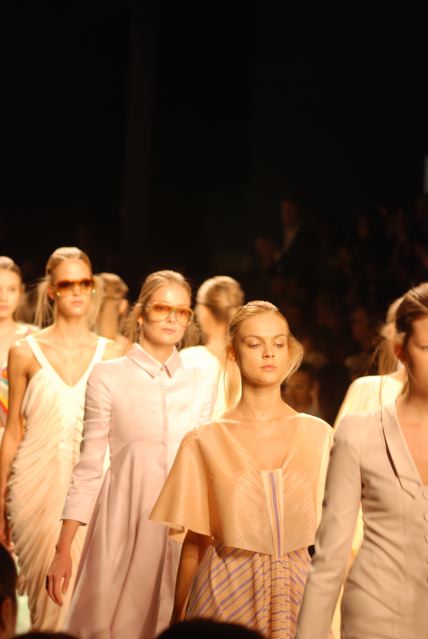 MILAN, Sep 23, 2008 / FW/ — A geometric interpretation of the butterfly, exalting its perfect proportions, the Byblos Spring 2009 collection gives us a glimpse of the future.
Since his arrival at Byblos, Manuel Facchini has brought Byblos to a futuristic path without looking sci-fi. His vision is based on technology and art that exists today but with a vision of the future. As a result, Facchini's interpretation are plausible, doable and most of all, highly covetable.
And this is the case with the Byblos Spring 2009 collection unveiled yesterday here in Milan. Empire waist mini-dresses done in accordion pleats in tie-dye degradé colors or just in simple white with honeycomb prints for sleeves.
Cigarette pants paired with abbreviated jackets or for an eye-catching look, wear it with a cape that is based on a butterfly – the insect's body serve as the tie that binds the multi-colored threads / yarn that had been spread to mimic the gigantic butterfly wings.
Not stopping there in terms of innovations, Facchini re-worked the corset and the bustier, streamlining their shapes, making them minimal, hence very modern. And though this might sound like a cliché, these new corsets and bustier could easily be added to Barbarella's wardrobe, if ever there was a remake.
Not missing anything, Facchini also propose big wraparound sunglasses and clutch bags as must have accessories.
[LISA HELM with additional reporting by SARA CONDE]
Photos by Lisa Helm
Related Post:
Milan Fashion Week Spring 2009