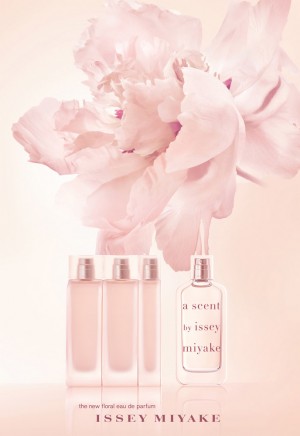 NEW YORK, April 17, 2010/—- This spring, Japanese fashion designer Issey Miyake reveals a bold new variation on his latest fragrance, 'a scent by issey miyake' launched last fall.
With even greater femininity and floral opulence, imparting a sensation of enveloping sweetness, "a scent by issey miyake" Eau de Parfum Florale reveals a more lavish generosity, offering a genuine alternative to the freshness of the Eau de Toilette.
With its original or delicately accented facets, the structure of the Eau de Parfum is inspired by the initial creation but enriched with floral and solar nuances that express femininity with greater warmth. Starting in the top note, Jasmine makes its presence known in a gust of petals.
The lush floral heart blossoms forth as a bouquet featuring Jasmine in a whirlwind of Rose, Hyacinth, Peony and Ylang, enhanced by "peach fuzz" effects or floral nectars, plus a vibrant luminosity intensified by Galbanum.
The alchemy of the base note is delineated by woody notes of patchouli, ambrox and moss, their subtlest facets unveiled with incomparable delicacy. This exquisitely nuanced composition was orchestrated by a different perfumer, whose talent allowed her to concoct a new fragrance that perfectly captures the spirit of the original creation.
The bottle, sculpted like a block of light from a piece of pure glass, the bottle of "a scent by issey miyake" Eau de Parfum Florale incorporates elements of the original design, retaining the interplay of finishing effects with the smooth transparent front and frosted glass sides. The floral spirit of the new Eau de Parfum is conveyed by the light, pale "peach-pink" tint of the fluid itself, which reflects through the clear glass surfaces to color the entire bottle.
'a scent by issey miyake' Eau de Parfum Florale is offered in two sizes, a 2.6 oz Eau de Parfum Spray ($90.00 USD) and a 1.3 oz Eau de Parfum Spray ($65.00 USD). 'a scent by issey miyake' Eau de Parfum Florale will be available May 1st, exclusively at Saks Fifth Avenue, Bloomingdale's and Nordstrom stores nationwide.