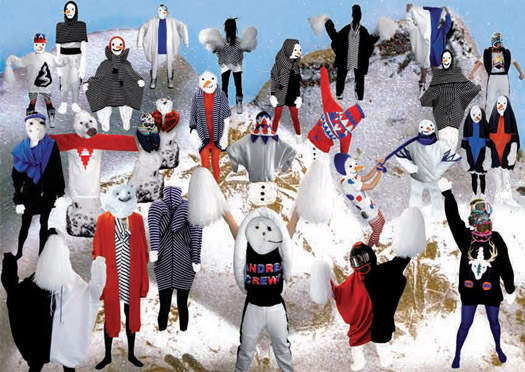 PARIS, Apr 24, 2010 / FW/ — Entitled "Hors Pistes" which is French or "off-piste" the designer cooperative Andrea Crews took ski wear trend into a different direction thus making the title of the collection more meaningful than at first glance.
In skiing, "pistes" are marked runs, so, it is logical to deduce that "off-piste" means skiing a few meters away from or between controlled trails and slopes.
Andrea Crews has always been in cult territory and off-piste in its view of fashion, which is actually the main reason for its charm.
Hence proposing all these knits in stripes or color blocks, which are warm enough for the slopes and even good enough for the après ski, actually makes sense.
[SARA CONDE]
Photos courtesy of Andrea Crews