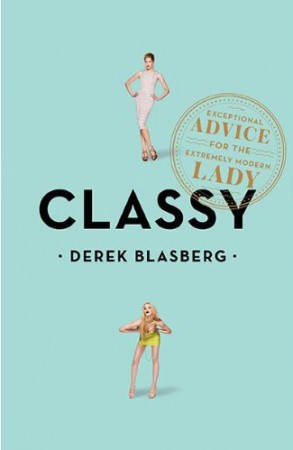 DALLAS, Apr 17, 2010 / FW/ — If you've ever wondered how to climb the social ladder with grace, how to feel confident in every situation, or even how to make a lasting impression (but not the kind that lands you on the latest "Worst Dressed List"), then Derek Blasberg's "Classy: Exceptional Advice for the Extremely Modern Lady

" is a must read!
On April 26th at the Rosewood Mansion on Turtle Creek, Derek Blasberg is launching his new book amidst Dallas' social set. Hosted by Barbara Bush and presented by Alexis Maybank, founder of Gilt Groupe, the event is expected to be the place to be that Monday night.
A native of St. Louis, Missouri, Derek Blasberg adopted New York City as his home when he enrolled at the New York University, graduating in 2004 with degrees in Journalism and Dramatic Literature.
He has written about the fashion industry, the New York art scene and the international social swirl for publications such as Vogue, Harper's Bazaar, W, V Magazine, Interview, the London Sunday Times and Conde Nast's Style.com.
Equal parts Midwestern good boy, Manhattan man-about town and international enthusiast of style, Blasberg has a unique perspective on some of the world's chicest ladies–and biggest tramps! He currently resides in New York City with his miniature dachshund, Monster.
Classy: Exceptional Advice for the Extremely Modern Lady
is a hilarious handbook that provides everything a teenager needs to know about fashion, socializing, dating, and etiquette.
With tons of practical tips and tools for learning to flaunt what you've got, dozens of specific how-tos, common no-nos, and huge blunders that even smart girls make, this tongue-in-cheek book will train a young girl to be a lady, and not a tramp!
CLASSY Launch
Monday April 26, 2010
7:00 – 9:00pm
Rosewood Mansion on Turtle Creek
Promenade
***

Nixxi is Opens Pop Shop in New York
The wait is over! New Yorkers will be able to buy Nixxi at the Ecolux Popup Shop from April 19-24, 2010 at Vanderbilt Hall Grand Central Terminal (42nd Street & Park Avenue) in New York City.
Nixxi uses modern clean lines, rich textures, and monochromatic colors like grey, black, and white, with hints of pale pink, purple, and ink blue. Find fabrics like organic cotton, bamboo voile, and imported organic Italian linen for summer dresses.
Can't make it? No problem. Shop online for Nixxi at www.nixxi.ca, nimli.com, and greenloop.com!