PARIS, Apr 11, 2010 / — 2010 sees the opening of the first Coccodrillo men's shoe boutique, adjacent to the present boutique on the Schuttershofstraat in the heart of Antwerp. The new space is an exciting expansion, and signals the division of the Coccodrillo concept into exclusive men's and women's salons.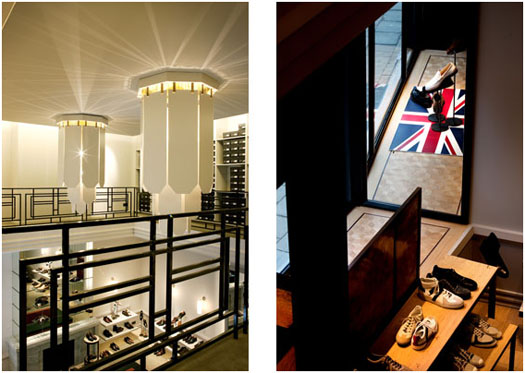 Influenced by the Art Deco, the space is imagined by Gert Voorjans in the style of a 1930's Buenos Aires salon, featuring hardwood accents and geometric chandeliers for a charming, masculine character.
Coccodrillo men's boutique is the destination for men to rediscover chic, stylish footwear in an intimate setting. Pushing creative boundaries, founders Eddy Michiels & Geert Bruloot continue to seek new talent and strive to maintain the highest quality selection of international footwear brands.
Since opening in 1984, Coccodrillo has existed at the forefront of contemporary fashion and footwear design. An undeniable link with fashion is the essence of the boutique, which continues to define a stylish and eclectic mix of the classic and the groundbreaking, underpinned by exceptional quality and service.
Over the past twenty-five years, Coccodrillo has supported some of the greatest talent in Belgian fashion, including pioneering the shoe collection of Martin Margiela in the mid 80's before he began the Maison Martin Margiela.
Since then the boutique has played host to global talents and niche players, including the late Japanese designer Tokio Kumagai, members of the original 'Antwerp Six' Dirk Bikkembergs, Dries Van Noten and Ann Demeulemeester, as well as greats of the Italian and British traditions such as Romeo Gigli and Prada, Church's and John Lobb.
Following the resurgence of French houses through new leadership, Coccodrillo has pushed the revival of prestigious names such as Lanvin, Yves Saint Laurent & Balmain.
The 21st century has offered a school of new talent in shoe design, and Coccodrillo has hand-picked exclusive designs from the likes of Giuseppe Zanotti and Nicholas Kirkwood. Supporting the Antwerp fashion academy, Coccodrillo offers a prize each year to a promising young designer for their creativity and craftsmanship in shoe design.
Coccodrillo continues to create unique projects with established designers, photographers and other creatives, collaborating on the 'Coup d'Etalage' window displays for the boutique. Designers who have lent their creative flair to the windows in the past include Martin Margiela, Dries Van Noten, and A.F. Vandevorst.
Coccodrillo mens boutique
Schuttershofstraat 8,
2000 Antwerp
Coccodrillo womens boutique
Schuttershofstraat 9
2000 Antwerp
T: +32 3 233 20 93
E: info@coccodrillo.be
www.coccodrillo.be