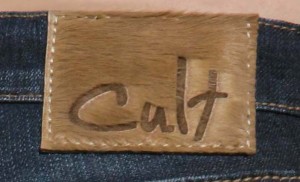 LOS ANGELES, Apr 19, 2010 / — The rugged men's denim brand Cult of Individuality, that has gained a following since its Spring 2009 launch among Hollywood hitters like Jerry O'Connell, Jamie Kennedy, Kevin Dillon, Gilles Marini, and Peter Facinelli, launched their Cult of Individuality women's collection at Project Las Vegas and Coterie .
The line will be a female appropriation of the men's brand that is known for its "cult classic" fits and innovative washes that aren't often seen at the sub $200 retail price point. The men's collection is sold in top denim specialty stores nationwide, as well as at Bloomingdale's.
"I brought Cult of individuality in first as a price point strategy, but now it has turned into a player within our denim assortment due to their washes and fits gaining momentum day by day" says men's buyer Alan Fernandez of Atrium in New York City.
Cult of Individuality designer Ron Poisson is answering his buyer's demands for a female equivalent of his well-performing novelty men's collection. Debut fits include the "Bohemi" bootcut, the "Karma" straight leg, the "Teaser" skinny, the "Flirt" denim legging and the "Alter Ego" boyfriend fit. The line features a signature pony hair patch on the back of the waist.
Treatments and techniques include hand abrasions, acid wash, enzyme wash, rip and repair, dip dye and more. The wholesale price range for Cult of Individuality's women's collection is $36-$45 (for $98-$135 retail). The line will be carried by denim specialty stores including Atrium, E Street Denim and Sebastian's Closet for Fall 2010, with the first delivery in July.
"Cult of Individuality jeans feel like home the moment you put them on, they feel like you've had them forever. My line is for people who live in their jeans and simply love denim," says Cult of Individuality designer Ron Poisson.
The company is based in City of Industry, CA, with sales operations out of their New York City showroom.
For more information: www.CultofIndividuality.com
Twitter @cultdenim