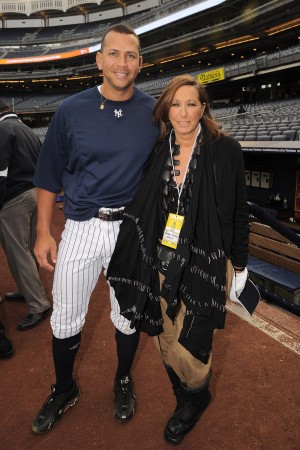 NEW YORK, Apr 19, 2010 / FW/ — Donna Karan is the first lady of New York fashion and a patron of the arts; last Friday, we found out that she is also a baseball enthusiast!
On the field before the New York Yankees game on Friday, April 16th, Donna Karan hobnobbed with friend Alex Rodriguez, Yankees manager Joe Girardi and Joba Chamberlin. Donna Karan joined the Yankees while they were on batting practice.
AJ Burnett was overheard talking to Donna about the players' passion for tattoos and her interest in a Zen lifestyle.
Can we expect to see Donna's influences at the stadium?
Well, she is already wielding her considerable influence. Donna Karan's DKNY label made baseball history by becoming the first fashion brand to have a permanent presence in the Yankee Stadium, with a prominent billboard in right centerfield.
In addition, DKNY will also be the title sponsor of the dugout lounge, located in the third baseline Champions Suite seating section, which can be accessed by Champions Suite ticket holders in Sections 27B, 28 and 29, as well as by all Legends Suite ticket holders.
Now, how about a juice bar in the DKNY Lounge? Don't you think it would be a nice alternative for baseball fans!!!!
[MARGUERITE SEBASTIEN]
Photos by Albert Michael/startraksphoto.com