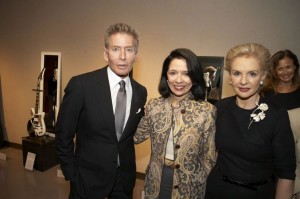 NEW YORK, Apr 29, 2010 / FW/ — Monday night at FIT's Haft Auditorium, 101 fashion-forward garments created by the college's top graduating students were showcased at the annual end-of-year runway show.
This professionally produced event presented sportswear, special occasion, knitwear, intimate apparel, menswear, and children's wear designed for Fall 2010 to packed audiences at two showings – 4:30 pm and 7:30 pm.
An overflow crowd viewed the shows in 3D stereoscopic simulcast in FIT's Haft Auditorium. For those not able to attend in person, the 7:30 pm show was streamed live to the web.
Each year, noted designers act as mentors and critics to the students. These designers visit classrooms throughout the spring semester to critique the students' work and, ultimately, to select the most exceptional garment from each area of specialization for a special award.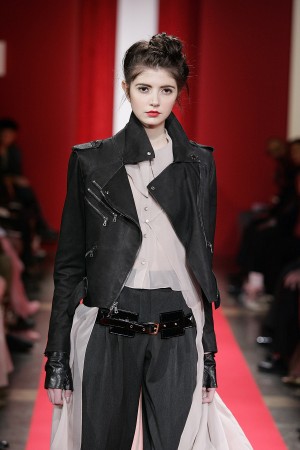 This year's critics included Calvin Klein and Carolina Herrera, who were among those presenting awards to the students at the VIP reception.
CRITIC AWARD WINNERS
Margaret Bacon – Intimate Apparel
Katelyn Bischof – Special Occasion
Diana Donovan – Sportswear
Cristina Gutierrez – Children's Wear
Amanda Henderson – Knitwear
Katherine Lee – Knitwear
Murphy Thiel – Menswear
Liudmila Urbina – Sportswear
Jessica Velasquez – Sportswear
The young designers also vied for cash awards from Cotton Incorporated, the lead sponsor of the fashion show. Students who used cotton in 95 percent of their garments were eligible to win $2,000 in each of five categories: sportswear, knitwear, intimate apparel, special occasion, and children's wear.
COTTON INCORPORATED WINNERS
Kidan Brooks – Special Occasion
Inyoung Ham – Knitwear
Keira McCullough – Children's Wear
Jessica Velasquez – Sportswear
Nicole Wilson – Intimate Apparel
Inclusion in The Future of Fashion runway show is selective, with garments chosen by a panel of judges that this year included Kate Betts, contributing editor of Time Inc., and Lisa Smilor, associate executive director of the Council of Fashion Designers of America (CFDA).