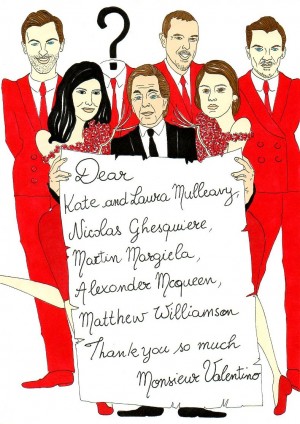 MILAN, Apr 17, 2010 / FW/ — Last February, famed designer and illustrator aleXsandro Palombo was featured in the METRO magazine's fashion supplement with "Humor Chic", the world's first Daily Society Portrait blog by the Italian designer.
An illustrated point of view about fashion, costume, culture, society and celebrity, Humor Chic is available at www.humorchic.blogspot.com
An eclectic artist, illustrator and author, poet of illustration with a fantastic sense of color, aleXsandro Palombo is the father of fashion satire.
He created Humor Chic, the world's first Daily Society Portrait blog, a place of entertainment and criticism about fashion, culture, society, manners and celebrities, an original and illustrated point of view, investigating and revealing society through intelligent and funny illustrations. It is an excellent therapeutic medium for detoxing ourselves from the daily routine.
www.humorchic.blogspot.com/2010/01/humor-chic-communication-metro-with.html  
Humor Chic® property of aleXsandro Palombo