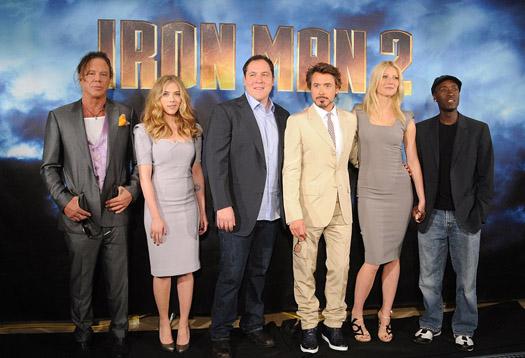 LOS ANGELES, Apr 24, 2010 / FW/ — Friday, in Beverly Hills, the stars of Iron Man 2 attended a photo call for the film.
The obvious star of the film is Robert Downey Jr. who plays the title role Iron Man, but in the photo call, he was upstaged by Scarlett Johnansson and Gwnyth Paltrow. Actually, all the men became second fiddle to the women!
Why? A wardrobe miscommunication – both Scarlett and Gwyneth wore gray! It's not a fashion faux pas; actually both women looked more than just lovely, they were gorgeous.
But, it became an issue when posing for the photographers. So, to solve the problem, the two women were separated by Director Jon Favreau and Robert Downey Jr. All's well that ends well.
With an estimated budge of $200 million compared to $140 million for its predecessor, IRON MAN 2 is expected to be the big movie hit this summer.
The sequel takes off from Iron Man, with the world now aware that the armored superhero Iron Man is billionaire inventor Tony Stark (Robert Downey Jr.). Stark now faces pressure from the government, the press, and the public to share his technology with the military.
Unwilling to let go of his invention, Stark, along with Pepper Potts (Gwyneth Paltrow), and James "Rhodey" Rhodes (Don Cheadle) at his side, must forge new alliances — and confront powerful enemies.
Iron Man 2 hits theaters May 7, 2010.