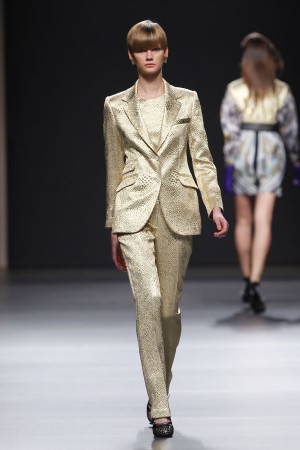 MADRID, Apr 13, 2010 / — For the Miriam Ocariz Fall 2010, different knitwear treatments dominate a large part of the collection, as a dynamic and warm base for an ever sophisticated female image.
Meticulous work using a combination of flat and circular techniques produces an elaborate result of cuts and topstitching, merging futuristic elements with delicate sets of gathers and feminine volumes.
One-piece fabrics simulate classic tricot and serve as the basis for double dresses in which the wool hugs the body creating a warm structure which also includes fine gauze and chiffon fabrics.
With a more technical vision and compact structure, the body's shape is drawn through lines which strategically show details such as brilliant sequins. A rigorous combination of the sophisticated and the sporty.
Prints are based on manual geometry; they suggest large tattoos with minute labyrinth-like lines which become entwined and enhance the structure's verticality.
Butane orange, ink blue, olive green and cherry red merge together and are combined with grey, beige and black. Tweed and Prince of Wales check, classics with a masculine air for wide, baggy trousers which contrast with tight-fitting bodices and coats and with voluminous backs.
Black Mikado, gold jacquard and shiny channel round off a series of short, intensely-structured dresses in which the feminine colludes with the naive and where the sophisticated is combined with the casual.
Photos courtesy of Cibeles Madrid Fashion Week
Cibeles Madrid Fashion Week Fall 2010