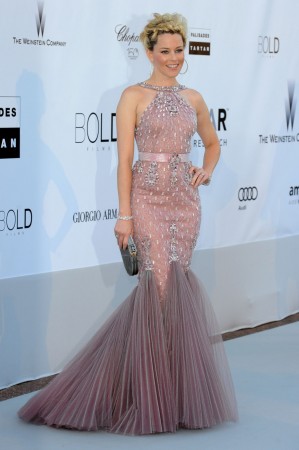 DALLAS & CANNES, May 21, 2010 / FW/ — From Cannes to Antibes, it seemed that everyone went to the Hotel du Cap on Thursday, May 20th for the amfAR's Cinema Against AIDS 2010 benefit gala
But, before we go there, let it be mentioned that on May 19th, actress Elizabeth Banks attended the Fair Game Cocktail Party hosted by Giorgio Armani held aboard his boat 'Main' carrying a Swarovski bag.
Then on Thursday, May 20th, at amfAR's Cinema Against AIDS 2010 benefit gala at the Hotel du Cap in Antibes, Elizabeth Banks, who also happens to be the event chair wore a pink, high-neck, low-back Versace Atelier gown covered entirely in sequins with a belt at the waist and a pink, chiffon train.
She accessorized the look with silver Versace shoes and a silver Versace clutch.
Still at the same red carpet at amfAR's benefit gala, Camilla Belle wore a Gucci Première strapless gown with cabochon tulle base border with jet micro beading and swarovski crystal detail, black satin high heeled evening shoes and black crystal beaded box clutch.
Ms. Belle finished the look with Cartier jewellery.
Actress Diane Kruger who is also the ambassador for Jaeger-LeCoultre watches arrived at Hotel du Cap in Antibes where the amfAR's Cinema Against AIDS 2010 benefit gala was being held in a black & white frock with asymmetrical hemline wearing the legendary Jaeger-LeCoultre 101 watch.
Always a standout on the red carpet is statuesque model Ana Beatriz Barros who chose a gorgeous white Versace gown with a single metallic strap and triangular, metallic patterning for the evening.
Fellow models Jessica White and Fernanda Motta also wore Versace for the evening. Jessica White opted to wear a turquoise, chiffon, one-shoulder Versace gown with a metallic top and asymmetric waistline. The model carried a Versace handbag as well.
Model Fernanda Motta chose a look from Versace's Fall 2010 Collection, she wore a royal blue deep V gown with silk panels in the front and an exposed back. She accompanied the look with Versace accessories
Mary J Blige made her appearance at the amfAR gala in a Gucci one of a kind silk georgette fully embroidered nude pearl micro beaded one-shouldered gown featuring drape detail under the bust and throughout the skirt.
[MARI DAVIS]