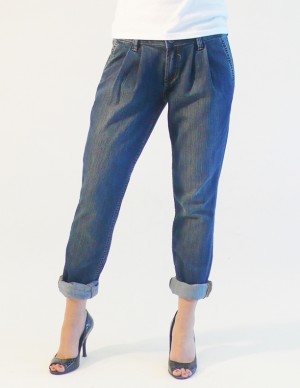 DALLAS, May 24, 2010 / FW/ — "Expect the unexpected from DISH jeans," states Donald Johannesson, Creative and Design Director of Dish Jeans, the denim label whose mantra is "make the jeans must-have styles easy-to-wear, fun and wearable."
"We continue to explore new treatments, silhouettes and design options but never at the expense of fit and function.
Style channels the emotional factor but fit and function seal the deal. And that is what DISH Jeans delivers consistently," Johannesson added, who at the same time introduced the new must-have styles of the brand.
Dish Carrot Jeans
Inspired by the streets of Europe, the Dish Carrot jeans have a little more room at the hip with flattering pleats at the top; then it tapes to a slim trim leg.
When the cuff is rolled up the pair has an ultra modern trouser look.
Skinny Cargo Jeans
Proposing new look for the ubiquitous Cargo pants, Dish Jeans has cooked up the Slouchy Skinny Cargo stylewhich is fashion forward, flattering and easy to wear.
It's slightly anti-fit but DISH has tailored this jean to make sure it is no less than 100% sexy. Strategically placed cargo pockets and knee patches salute this military inspired look.
Zip It Skinny Jeans
Its "tough chic" when the skinny jean gets a bit of hardware; practical as well as decorative, the skinny look is given a face lift with its spot-on zipper accent styling.
Diagonal zipper placements create a slimming effect and provide functional benefits too. The ergonomically designed seams draw the eye down the legs making them look a mile long.
Wearable Art
A mottled indigo wash covers this skinny version. The indigo is strategically manipulated to create an artistic canvas that is applied to a slim, trim silhouette.
Art and fashion blend beautifully together for a singular sensation that is as appealing as it is fashion forward.
A Flare for Leggings
After its initial craze the legging needs an update and DISH has the solution. Why not add a bit of panache to the styling?
The new body conscious version features the same second skin look but to make things a little more interesting adds a sexy kick flare at the bottom.
Masculine /Feminine
Simply elegant and yet so casual is the tailored jeans trouser by DISH. A classic style, it strikes just the right balance because it can go to work, out for the evening or relax at home.
All it needs is to partner with the appropriate coordinate. The straight leg fit is chic and the overall effect is sexy and feminine.
Though DISH is best known for its jeans the brand has sister pieces that top the bottoms effortlessly.
Designed in ultra soft and cozy suede fleece, these pieces are the perfect addition to seasonal wardrobes and look just right with jeans.
A Salute to Arms
Cooler days or evenings call for coverage and DISH has just the right blazer style that will warm the arms, shoulders and body. Tabs at each shoulder present a subtle homage to the military.
Air a little warmer? The sleeves can be rolled up to expose the gorgeous striped lining.
 This utilitarian jacket will become a must-have staple that can march perfectly into any wardrobe.
The Cocoon Wrap
It's hot; it's cold. When weather is unpredictable it's a cozy cocoon wrap to the rescue.
 DISH designs one that is simple and perfectly designed for indoor or outdoor wear.
It can be paired with an easy t-shirt and jeans for anytime of day comfort. The sleeves are meant to be pushed up for a look that is effortless yet dramatic.
DISH "fashion" is stimulated by trends spotted in Europe, the military, and juxtaposing a little of past fashion details to the present. Ergonomic seaming allow for sexy contouring and illusionary long, lean lines; high tech fabrics result in comfort and essential fit; accents such as zippers, mottled fabrics and new kick- flared bottoms; all add up to a selection that will please the fashion senses.