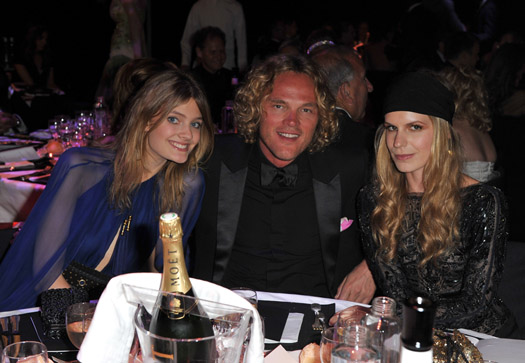 MILAN & CANNES, May 21, 2010 / — The highly anticipated annual amFAR'S Cinema Against Aids Gala dinner arguably puts under one roof the world's most recognizable names and faces.
And this year, like in the previous years, Emilio Pucci hosted a table at this annual fundraiser for amfAR, the Foundation for AIDS Research, one of the world's leading nonprofit organizations dedicated to the support of AIDS research, HIV prevention, treatment education, and the advocacy of sound AIDS-related public policy.
With Emilio Pucci's Creative Director Peter Dundas and Deputy Chairman & Image Director Laudomia Pucci at the head of the table (figuratively speaking since the tables are all round), they were joined by Pierre Yves Roussel, Constance Jablonski , Olivier Zahm, Isabelle Kountoure, Katya Foreman, Stavros Niarchos, Tatiana Santo Domingo, Pc Valmorbida, Eugénie Niarchos.
Constance Jablonski was wearing an Emilio Pucci dress from FW 2010-11 collection, Katya Foreman was also wearing Emilio Pucci and Eugénie Niarchos opted for a long black skirt and lace body from Emilio Pucci SS 2010 collection.
Since 1985, amfAR has invested nearly $290 million in its programs and has awarded grants to more than 2,000 research teams worldwide.
This year's event was held Thursday, May 20th, at the Hotel du Cap-Eden-Roc in Antibes.