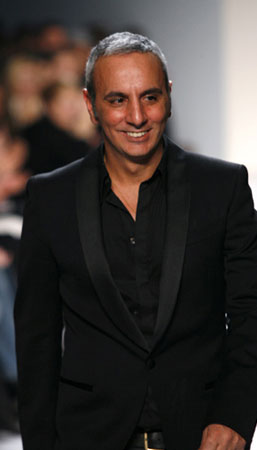 Alessandro Dell'Acqua Named Creative Director of Brioni Womenswear
MILAN, May 28, 2010 – Fashionistas can expect something new from Brioni this September. The Roman fashion house announced yesterday that famed Italian designer Alessandro Dell'Acqua is the new Creative Director of Brioni Womenswear.
Dell'Acqua, who, aside from his eponymous label has also designed for such brands as La Perla, Borbonese and Malo. Last February, he launched N° 21, his new line.
Very optimistic about the success of this new collaboration, Alessandro Dell'Acqua stated, "I feel extremely proud of the trust and esteem that has been shown to me by Brioni Management. I am confident that this partnership will prove to be very satisfying."
Founded in 1945, Brioni is better known for its menswear, which was named the most prestigious men's fashion brand in the United States in an independent survey conducted by the Luxury Institute of New York in 2007.
"The appointment of Alessandro Dell'Acqua demonstrates the Group's desire to strengthen the womenswear collection, which has been a source of tremendous growth for some time," said Andrea Perrone, President and CEO of the Brioni Group.
"I believe that our partnership with Alessandro will allow us to achieve our objectives and help to make the Brioni woman a style icon in the women's market," Perrone added.
***
Sarah Burton Appointed at Top Creative Post at McQueen
LONDON, May 28, 2010 / — Alexander McQueen fans can now rest easy; the fashion house that he founded will go on even after his death. Sarah Burton, McQueen's first assistant and a 14-year veteran of the house has been named Creative Director of the brand.
"The creation of modern, beautifully crafted clothes was at the heart of Lee's vision. I intend to stay true to his legacy," said Burton in a statement.
Burton's appointment is seen by many as a vote of confidence by the Gucci Group, owner of the Alexander McQueen label.
"As a business we remain absolutely committed to the Alexander McQueen company which has…shown to be a resilient brand in the aftermath of the tragic loss of its founder," said president and chief executive of Gucci Group, Robert Polet.
"Sarah has real talent, a close understanding of the brand and the vision necessary to take it forward," Polet commented about the label's new Creative Director.