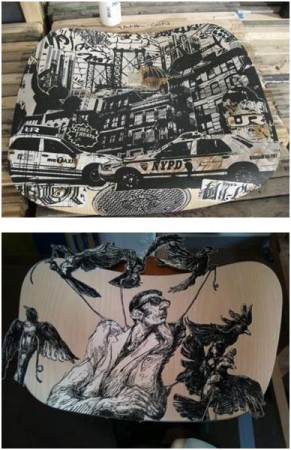 Operation Design Charity Auction
NEW YORK, May 5, 2010 / — Three years ago a group of professionals in the arts and design community in New York City started a not for profit organization called Operation Design with one mission: It's a necessity – not a luxury – for NYC students to find comfort and inspiration in their daily work and learning spaces.
Operation Design's first ambitious fundraising project, a collection of iconic Eames® Molded Plywood Chairs as "re-imagined" by 20 prominent graffiti and street artists including Billi Kid and Blanco (photo left) will be up for live auction to benefit Operation Design's programming for 2010, beginning May 11th and ending on June 1st at http://www.opdesign.org  (bidding starts at $1,000).
To drive traffic to the auction, Barneys will display the one-of-a-kind limited edition collection in the windows of Barneys New York.
Operation Design Charity Auction
May 11 – Jun 1, 2010
www.opdesign.org
***
Barbara Rihl Opens Showroom and Appoints MVGD Communication as Press Representative
PARIS, May 5, 2010 / — Accessories designer Barbara Rihl announced the opening of her namesake label's showroom and the opening of its own in-house press office. External public relations will be handled by Ms. Maggie Geoffroy-Dechaume of MVGD Communication.
For appointment to view the latest Barbara Rihl collection:
Barbara Rihl Press Office
T : +33 (0)1 42 89 16 75
F : +33 (0)1 42 66 35 74
www.barbararihl.com
For media inquiries:
Maggie Geoffroy-Dechaume
MVGD Communication
T : +33 (0)1 42 71 26 21
P : +33 (0)6 75 28 02 29
E-mail : mvgd@neuf.fr