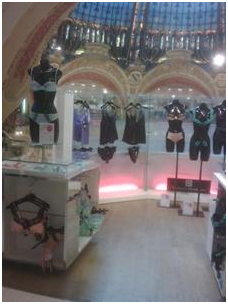 PARIS, May 2, 2010 / FW/ — Opening her first store-within-a-store point of sale, Vannina Vesperini chose Galeries Lafayette's Designer Lingerie alongside Chantall Thomass and Kenzo, on the store's third floor.
To celebrate her corner at Galeries Lafayette, Vannina Vesperini debuted her Lingerie Bio Collection there. And as an added attraction, Vesperini's "Dessous-Dessus" Summer Collection is also available.
And, on a related development, Vannina Vesperini also launched a new showroom "In Private" and atelier, "Studio VV" in the heart of the Bastilled. Ms. Vesperini will receive appointments for client request customization in this new location.
VANNINA VESPERINI/
20 passage de la Bonne Graine
Paris 11e
Tél/ 01 40 15 62 01
www.vanninavesperini.fr
[SARA CONDE]