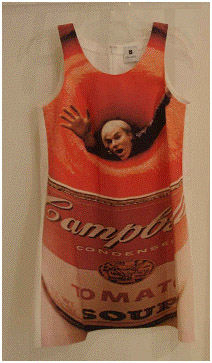 NEW YORK, Jun 17, 2010 / — Andy Warhol in a dress? Edie Sedgwick on a t-shirt? With Lisa Perry, both of these are possible.
Combining her love of art and fashion, Lisa Perry collaborated with 1960s famed photographers Nat Finkelstein and Carl Fischer to create a line of limited-edition dresses and t-shirts for both men and women.
A natural fit for Lisa's 60s-inspired aesthetic, the exclusive six-piece collection will feature the photographers' iconic images of Andy Warhol and Edie Sedgwick on cotton twill a-line dresses and cotton jersey t-shirts.
The dresses will be available for pre-order beginning today, June 17th and available for sale in July 1st at the Lisa Perry Madison Avenue and Sag Harbor stores and online. The dresses will retail for $1295 while the t-shirts featuring the same images will retail for approximately $100 and debut in stores shortly afterwards.
Available for pre-order beginning June 17 at:
Lisa Perry Madison Avenue
976 Madison Avenue
New York, NY 10075
Tel: 212.334.1956
Lisa Perry Sag Harbor
45 Main Street
Sag Harbor, NY 11963
Tel: 631.725.7467
http://www.shop.lisaperrystyle.com/