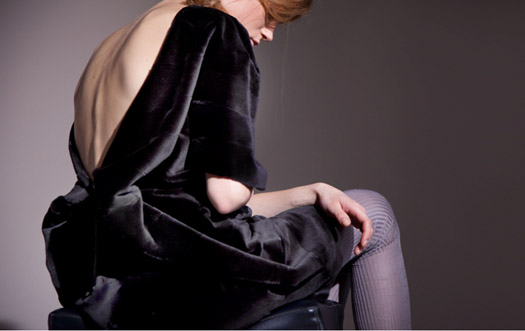 MILAN, Jun 1, 2010 / — 20 photos by the young photographer Angelo Ghidoni NG interpret Gabriele Colangelo fur collection for Autumn 2010 – Winter 2011.
Thanks to the cooperation between Gabriele Colangelo, ArtGallery, and Angelo Ghidoni, the photo session shows the sole understanding of designer's work by the photographer, and his strong sense of equilibrium in aesthetics, which succeed into exploring the artisanal and morphologic research inspiring the collection.
Natural tints and ancient workmanship, which experiment technological innovation to provide furs with new grace and shapes, come to light in evocative pictures where a new woman, elegant, thoughtful, expresses her charisma and elegance in movements.
Gabriele Colangelo cooperates in ArtGallery's projects to create a new culture of creativity, by sustaining talents in Arts.
The young photographer Angelo Ghidoni, who has started his collaboration with ArtGallery in 2009, has been selected among numerous artists due to his immediate understanding of Gabriele Colangelo collection, and his acute perception of the chromatic language and attention to details and fabrics.
ArtGallery is a non-profit Association which sustains new talents and young artists, by innovative ways to communicate Art, and an on-line gallery which has been awarded numerous times by Italian and international critics and Press.
The fur collection, interpreted by Angelo Ghidoni, is available on the web, at www.gabrielecolangelo.com
Visit Collections pages.
Further information about the initiative and ArtGallery is also available at:
www.associazioneartgallery.org