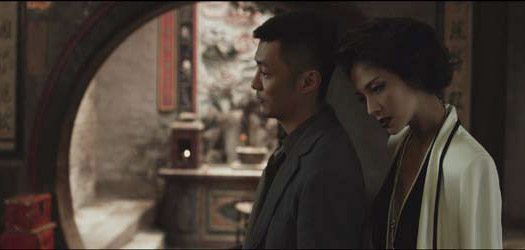 DALLAS & PARIS, Jun 2, 2010 / FW/ — "Anytime Soon" is a story about a film director and his search for "the ideal woman".
Set in the Tin Hau temple in Hong Kong, the film stars one of the city's rising stars, Shawn Yue, fresh from the set of John Woo's latest swords-and-daggers epic, Reign of the Assassins.
Yue plays a film director suffering from the disjunction between the real world that he lives in and the "reel" world that he creates on cellulose where the impossibly perfect woman (played by model Cara G) resides.
A short film by French director Jean-Claude Thibaut, he mood of Anything Soon was partially inspired by the costumes, which Thibaut sourced from the classic Parisian fashion house Hermès—he describes it all as "a bit Gatsby."
Thibaut works from the premise that wardrobe comes first: "You can't choose the actors or the story, and then afterward the fashion for them. In fact, you have to do it the opposite way around."
For "Anything Soon", Shawn Yue and Cara G wore Hermès clothing from the Spring 2010 collection designed by Veronique Nichanian and Jean Paul Gaultier, respectively.
The founder of Advance Room, a French production company that specializes in the fashion and luxury industries, Director Jean-Claude Thibaut is not a stranger to fashion. He has previously created perfume promos for Armani, Dolce & Gabbana and Pierre Cardin. He lists Fellini and Yves Saint Laurent as his influences.
Anytime Soon by Jean-Claude Thibaut from ADV on Vimeo.