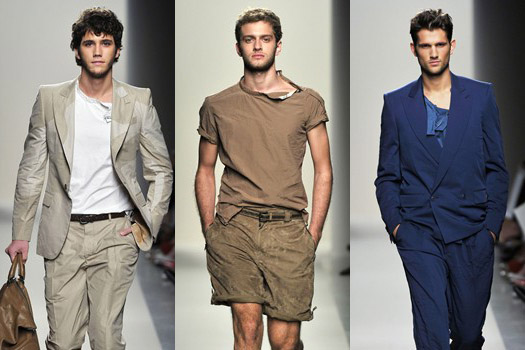 MILAN, Jun 20, 2010 / FW/ — If there was a collection that captured masculine elegance this season, it is Bottega Veneta.
Tomas Maier, who continuously engages in the exploration of the fusion between casual and formal found the sweet spot this season beginning with the jac
Beginning with the jacket, Maier created it in relaxed fit yet snug enough to show the man's powerful torso. Physical fitness and sculpting their abs and six-packs have been a trend among men for some time.
This manly physical attribute is harder to show on the runway than it is to show off the female curvy figure; Tomas Maier found a way to show a man's potency without being blatantly sexual. Call it male sensuality if you want.
A refined and sophisticated color palette rules the entire collection, fluctuating between rich and deep shades of blue, crimson red and green fields that accompany the inevitable black and white.
And for spending time under the sun, Tomas Maier proposes blouson jersey with inlays of high-tech fabric; micro costume shades and scarf that falls around his neck. The look of Bottega Veneta even at the beach exudes elegance even when it tailored to the bare necessities.
[SARA CONDE]