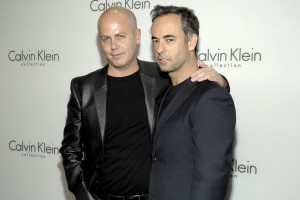 NEW YORK & BERLIN, Jun 17, 2010 / FW/ — Berlin fashion week heats up with Calvin Klein brands as Calvin Klein Inc. (CKI) announced that it is hosting a unique presentation that will feature the latest offerings from Calvin Klein Collection, ck Calvin Klein, Calvin Klein Jeans, and Calvin Klein Underwear brands, with a special preview of the company's latest fragrance introduction, Calvin Klein Beauty.
The event will coincide with the opening of Spring 2011 Mercedes-Benz Fashion Week Berlin and the opening of the important Bread & Butter Premiere League tradeshow next month.
The special evening will be hosted by the company's award winning creative directors — Francisco Costa (women's Calvin Klein Collection), Italo Zucchelli (men's Calvin Klein Collection), and Kevin Carrigan (ck Calvin Klein, Calvin Klein Jeans) – as well as the company's President & CEO, Tom Murry
Notables expected to be in attendance include several of Calvin Klein's current global advertising campaign talent, including: actress Diane Kruger, face of the recently announced new fragrance, Calvin Klein Beauty, set to debut in Fall 2010; model Lara Stone, who will be featured in the Calvin Klein Collection, ck Calvin Klein, and Calvin Klein Jeans Fall 2010 campaigns; and, actor Kellan Lutz, one of the four men featured in the current Calvin Klein X Underwear global ad campaign.
The large-scale, invitation-only event will be held on the evening of Wednesday, July 7th at Die Muenze, a historic industrial building that was previously one of the oldest and most important mints in Germany, but ceased producing currency in 2005.
This impressive landmark is centrally located just steps away from Berlin's town hall and will be transformed for the evening into a unique fashion experience that will feature over 50 models from around the world.
The event will present the Spring 2011 and Resort 2011 offerings which will be showcased within the context of a special installation piece created by prominent Berlin-based, J. MAYER H. Architects, who was commissioned by CKI to create a unique and impactful experience that unites the various lines under an overall theme and concept to express a total lifestyle statement.
Mr. Mayer H., the principal of J. MAYER H. Architects, is known for his unique design approach, which is an intersection of architecture, communication, and new technology resulting in a signature style of that is reflected in his non-traditional approach of utilizing unique shapes and formations that are woven together with a sense of mystery.
His projects have ranged from urban planning schemes and buildings, to installation work and product design – and his award winning work has been published and exhibited worldwide as a part of numerous collections, including the Museum of Modern Art (MoMA) in both New York and San Francisco.
For the evening there will also be an exclusive preview of the new fragrance, Calvin Klein Beauty, which will be in-store this fall. The scent is the first new women's scent to be introduced in five years from the brand and is positioned to be the most prestigious fragrance in the existing global fragrance portfolio.
This event is another in a series of global events that Calvin Klein, Inc. has held over the past few years in important and exciting global markets such as London, Milan, Tokyo, Singapore, Shanghai, Sydney, Seoul, Dubai, Rio de Janeiro, Los Angeles, and New York.