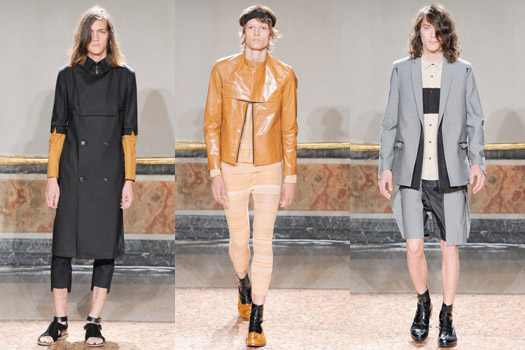 MILAN, Jun 21, 2010 / FW/ — Mixing textures and colors, Masataka Matsumura designing for Giuliano Fujiwara overlapped different materials in one garment and thus creating a multi-faceted collection that fused western influences with Japanese aesthetics.
Case in point, the shape of the jacket was changed and occasionally broken up into independent pieces because different fabrics were used.
The silhouette is pure and linear; rich in details that make it vibrant. Geometric cuts, interrupted lines and angles give the illusion of movement, thus making the silhouette dynamic. The focus is on the shoulders and on the heart, protected by layers and panels.
Overlapping the materials mixed with empty spaces create a strong, graphic impact enhanced by chromatic and textural contrasts.
Coats and jackets play a key role and come in a variety of proportions and styles: from leather micro jackets to coats at calf length; and to a group of styles that become three-dimensional, acquiring wholeness due to the overlapping of different components that can even be worn separately.
[MARI DAVIS]
Photos courtesy of Giuliano Fujiwara