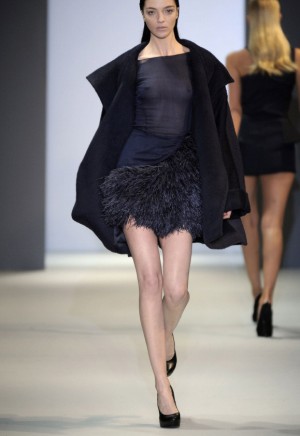 PARIS, Jun 29, 2010 / FW/ — Turkish designer Hakaan Yildirim is the 2010 winner of the ANDAM fashion fellowship.
A graduate of the Fine Arts University in Istanbul, Hakaan Yildirim joins the impressive list of today's well-known designers who also received a jumpstart from ANDAM – Yvan Mispelaere (2003 fellowship winner and creative director of Diane Von Furstenberg), Giles Deacon (2009 winner, creative director of Ungaro), Christophe Lemaire (1995 winner, creative director of Hermès), Martin Margiela (1989 winner), Viktor & Rolf (1994 winners) and Jeremy Scott (winner in 1998 and 2000), among others.
With a purse of 220,000 euros (approximately US$276,000), ANDAM is one of the most prestigious fashion grants in the world. This year's panel of judges alone reads like a global fashion who's who beginning with Carine Roitfeld (Editor-in-Chief, French Vogue) who is the current chair.
The panel of judges met under the supervision of ANDAM director Nathalie Dufour, uniting Alber Elbaz (Lanvin), Jean-Pierre Simon (DAP, French Ministry of Culture), Sarah Lerfel (Colette), Jefferson Hack (Dazed & Confused), Virginie Mouzat (Figaro), Pamela Golbin (conservator at the Musée des Arts Décoratifs in Paris), Humberto Leon (Opening Ceremony), Jean-Jacques Picart, Renzo Rosso (Only The Brave), Sophie Delafontaine (Longchamp), Delphine Arnault (LVMH), Valérie Hermann (Gucci Group), Dania I. Tarhini (Saks Fifth Avenue Middle East), Suzanne Timmins (Hudson's Bay Company) and Cyril Rahon (Galeries Lafayette), with the invaluable support of Mr. Pierre Bergé (Pierre Bergé Yves Saint Laurent Foundation), Laurent Dubois (L'Oréal Professionnel) and our newest partner, Samsung Electronics France, represented by Heeil Shin.
Launching his label in January 2010, Hakaan Tildirim (b. 1971) presented his first collection during London Fashion Week Fall/Winter 2010, with the support of photographer Mert Alas.
But, though a newcomer in the London fashion scene, Tildirim is already well-known in his native country where he won first prize in the Young Fashion Designers Contest hosted by the Istanbul Textile and Apparel Exporters Association in 1998. He then worked with Turkish designers for several years before moving to London.
The €220,000 endowment of the ANDAM Fashion Award will enable him to present a collection in Paris during Ready-to-Wear Week next October and to open a French branch for his label with a studio in Paris.
[MARI DAVIS]