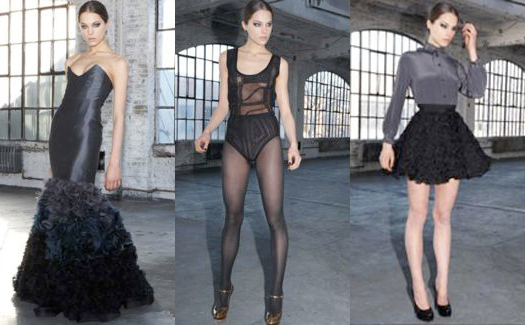 DALLAS, Jun 2, 2010 / FW/ — Ones and zeros, zeros and ones, the binary code of today's life is a constant presence in the designs of Samantha Sleeper, 23, who is fascinated by the duality that exists around us.
This modern "yin and yang" viewpoint showed in Samantha's debut collection for NPRPA, a ready-to-wear line she launched with partner Nicolette Prpa after her graduation at Parsons in 2009.
For Fall 2010, Samantha sought out a balance between feminine, body conscious silhouettes and extreme attention to detail, textiles and fabric treatment.
The duality exist beginning with the inspiration. Emerging from a post apocalyptic dream, the Fall 2010 NPRPA has been inspired by tactile memories: manmade grids; highway patterns, fallen linear foundations of concrete and steel, and lingering foliage of manicured suburban lawns.
Life and death, death and life woven together as one; a binary code with a dark undertone and macabre beauty.
Her goal, she says, with this first collection is to "make a little comment that will hopefully grow into a sentence, and eventually, a statement as a designer, while the collections continue and I evolve." The collection was recently recognized by top industry trade publication Women's Wear Daily as one of its "Globe Runners," featuring a complete look on the cover.
Receiving critical acclaim for a debut collection is always heartwarming for an emerging designer. With Samantha Sleeper, the kudos began early. While at Parsons, this Illinois native has been honored with several awards, including: 2009 Saks Fifth Avenue Scholarship; 2009 Solstiss/Bucol Award; Crystallized Swarovski Elements; Henri Bendel HandBag Award finalist; winner of Lord and Taylor LOVE AT FIRST SIGHT challenge; and, a finalist in the Good Morning America 2010 Oscars challenge.
An inspiration to us all, Samantha overcame overwhelming difficulties to reach what she has achieved. Clinically deaf and dyslexic as a child, she had difficulty with letters and numbers. She saw the world as shapes, forms and colors. In her desire to communicate, she went to art and design, and thus leading her to a path that brought her to where she is now.
[MARI DAVIS]
Photos courtesy of NPRPA