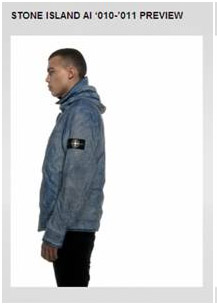 NEW YORK, Jun 30, 2010 / — Using elements from sports and military environments, Stone Island created new angles for "hybrids" that highlights functionality and utility to fit the needs of contemporary gentlemen.
References to British-style outdoor wear can be found in the collection. Iconic garments have been reworked and brought up to date in terms of style and choice of colour to satisfy new everyday needs.
Research and technology applied to material. Treatments, experimentation, finishes and dyeing techniques have created new colour codes, while respecting the garments' performance.
Liquid Reflective Jacket
The language of safety work garments inspired the Reflective Jacket in '991.
Now a reflective coating made up of thousands of micro glass balls has been hand sprayed onto the finished garments, creating an uneven liquid effect on the surface.
Thermo-sensitive Garments
The Ice Jacket was launched for the first time in '989. A liquid crystal coating causes a chromatic change in relation to changes in temperature from hot to cold and vice versa.
Ice Jacket Camouflage_ in light cotton with a camouflage print: when exposed to low temperatures it becomes solid dark grey.
Waxed Ice_ the version in waxed cotton with a detachable felt "helmet" changes from silver blue, beige or army green to a darker shade.
Quilted garments
In rubberized cotton muslin bonded to a transparent polyurethane film that makes them water resistant.
Down garments
Parkas, vests, bomber jackets and reversible jackets in ultra-light nylon and waxed leather are light as a feather and padded with goose down.
Welded Down Jacket
Rip stop fabric bonded to a performance membrane with heat-sealed seams. The down padded sections are electro-sealed to ensure maximum waterproofing: the result of Stone Island technology.