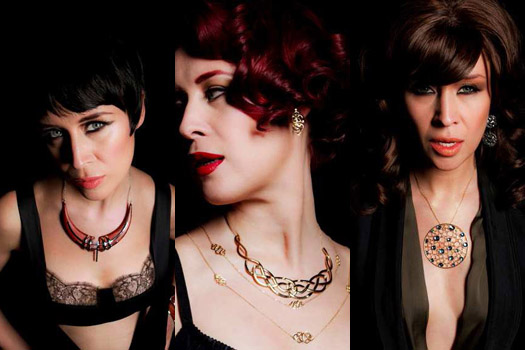 PARIS, Jun 10, 2010 / FW/ — With names like Crystal Water, Ring of Fire, Salt of the Earth and Winds of Change, the Valerie MacCarthy jewelry collection is about the four elements – water, fire, earth and wind – that the ancients believed to make up our universe.
Aptly entitled "The Four Elements," Valerie focused on colors, shapes, symmetry, asymmetry and different media in Jewelry / Metals, stones and wood.
WATER / blue, perfect concentric circles
FIRE / use of wood, curved lines of flames
EARTH / use of wood, straight lines, longitude and latitude
WIND / simplicity of the lines that curve and intertwine endlessly, transparency of diamonds
The debut of her eponymous jewelry line also coincided with the release of Valerie MacCarthy's first single, "Slow Burn". Now, that is hard to beat!