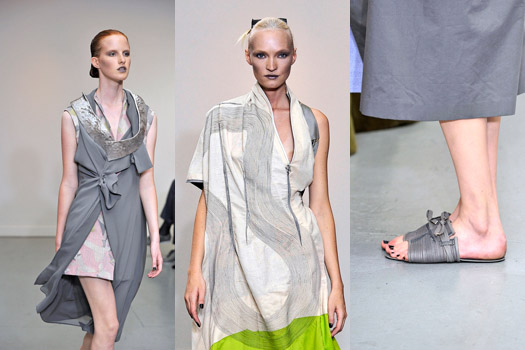 PARIS, Jul 6, 2010 / FW/ — Inspired by Arne Jacobson's Ant Chair (c. 1952), Gustavo Lins referenced the chair's simplicity and organic shape that was presented as a one-piece furniture with its seamless seat and back.
As its name implied, the Ant Chair was so named because it approximates the similarity of the outline of an ant with its raised.
Realizing that the Ant Chair's ample yet "figure hugging" outline could be used to create a sublime synthesis of the shoulders, waist and hips, Gustavo Lins imagined garments exploring this iconic motif and dreamlike metaphor of the female body.
Using its flattened-out form as a pattern, Lins placed it on the back of garments then moved it progressively around the body. Its inscription can be discreet, with a leather braid, or emphasized with multiple topstitching.
Developing this concept, he has created mainly outer garments, raincoats, fur dressing gowns, coat-dresses and scarf-tunics, worn over a supple leather jerkin cut like a close-fitting mini-kimono.
The waist is emphasized by the jerkin, while the deliberately ample outer garments are allowed to float like the open kimono of a courtesan, a sari or a caftan.
As soon the garments are taken off, with a single gesture their natural, fluid movements freeze on the chair, like a snake shedding its skin.
[SARA CONDE]
Photos by Marleen Daniels/ courtesy of Atelier Gustavo Lins