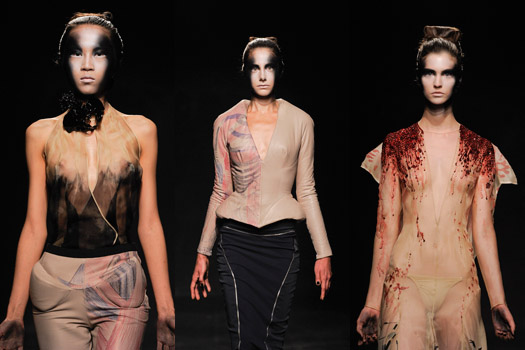 PARIS, Jul 7, 2010 / FW/ — Inspired by martyrdom, Julien Fournié elicited beauty from darkness and sadness usually associated with the suffering of death on account of adherence to a cause, especially to one's religious faith.
Using blood red crystals on embroideries and handpainted inked shadows to represent the scene of the slaughter, Julien Fournié did not include any references to religion but blended street culture with the use of big zippers strategically placed as perpendicular or diagonal slashes.
With this unexpected twist, the high concept tone of the collection was virtually erased and what was left was a poetic interpretation of human suffering without the nobility of martyrdom. Hence, the audience is left with the thought provoking question, "Has it all come this?"
Whether by choice or by accident, Julien Fournié has become a harbinger of the new generation of designers in the Paris haute couture scene who emerged post the Great Recession.
Young, without financial backing in a capital-deprived business environment, designers shine by sheer talent alone. Without all the trimmings usually associated in high street fashion shows, the cut, the silhouette and the clothes really do the talking.
And while the century-old traditions of haute couture are observed, the 1990s hedonism has been put aside and replaced with subtlety and artistry.
[MARI DAVIS]
Photos courtesy of Julien Fournié

Julien Fournié Premier Hiver Couture Hiver 2010-2011
envoyé par MimiLav. – Films courts et animations.