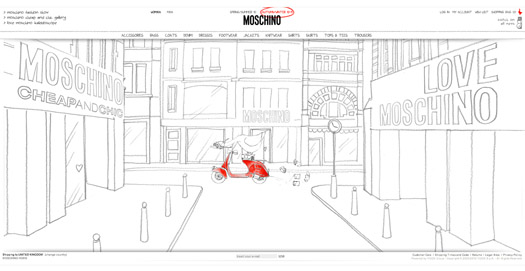 MILAN & NEW YORK, Jul 13, 2010 / — The virtual boutique of Moschino "Powered by YOOX Group" which was launched in February 2009 has a new look!
Thanks to the success of its online boutique, Moschino has announced that MOSCHINO.COM will expand its user base, currently accessible from Europe and the U.S.A., to include Japan. A German-language website for Germany and Austria is also planned for the near future.
MOSCHINO.COM is the first virtual boutique designed by hand. The trompe l'oeil effect of the pencil sketches, a Moschino hallmark, shares the stage with virtual images of clothes, accessories, and mood boards for visually friendly and interactive browsing.
Moschino's Creative Director Rossella Jardini said, "I'm delighted to transfer online the Moschino creativity, which is always inspired by the past so that it can optimistically look to the future."
The state-of-the-art MOSCHINO.COM browsing system lets customers purchase products according to category, line, the latest news or through the mood boards for the newest collections of the three brands. Through the Moschino mood board, customers can buy clothes featured in the latest runway shows. The CheapAndChic mood board presents a slide show of the different outfits, while a kaleidoscope animates Love Moschino products for sale.
The Moschino virtual boutique combines the creative, playful aspects of fashion and excellent customer care, global logistics, and avant-garde technology "Powered by YOOX Group".
The Japanese version of MOSCHINO.COM will be launched in August, while the German website for Germany and Austria will be ready in September. This will bring the total up to over 40 countries worldwide.
Alessandro Varisco, General Manager of Moschino S.p.A., said with optimism, "Our customers' loyalty encourages us to provide an increasingly modern and diversified online shopping experience that combines Moschino's experimental, creative aspect with dynamic communications and expanding to give new markets an opportunity to buy Moschino collections online."
Moschino, Moschino CheapAndChic, and Love Moschino women's collections are available at www.moschino.com