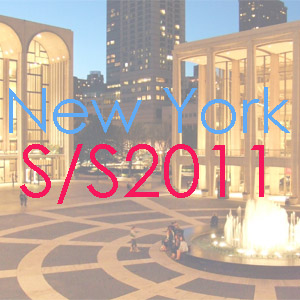 NEW YORK, Aug 28, 2010 / FW/ — Continuing its support of fashion week and while providing unparalleled access into the industry for its fashion savvy Cardmembers, American Express has teamed up with Architectural Digest and renowned interior designer Bill Sofield to design the much-buzzed about Skybox space.
Perched high about The Theater and The Stage, the American Express Skybox will hit stylish new heights this season with a rich and layered new look created by one of the world's leading designers.
American Express, in partnership with Architectural Digest, has commissioned renowned interior designer Bill Sofield to customize this year's exclusive hideaway, infusing a sense of subdued opulence that complements the move to Lincoln Center.
"I'm thrilled to work with American Express and Architectural Digest to design this highly sought after Skybox space," said Bill Sofield.
"I wanted to create a lavish atmosphere that brings together the energy and action of the front row, and reflects the chic sophistication that Mercedes-Benz Fashion Week entails, particularly with its new home at Lincoln Center."
Hosted by style icon Kate Nobelius, the American Express Skybox will once again provide Cardmembers with an unparalleled vantage point of the runways, connect them with the industry's biggest names and allow them to mingle with the who's who of the world of fashion and style.
These coveted premium access packages were made available for Platinum Card® and Gold Card members and sold out quicker this season than ever before.