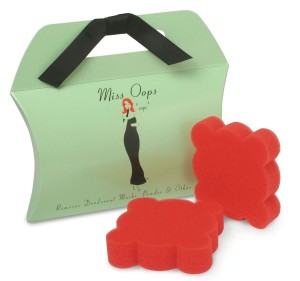 DALLAS, Aug 31, 2010 / FW/ — Deodorant stains, panty lines and jeans cracks… we all try to avoid them, but somehow they always show themselves in the most inopportune moment!
What if we can cast out all these oopsies moments? What if there is a product created just for that?
From banishing deodorant stains and eliminating panty lines to boosting busts and camouflaging cracks, Miss Oops promises to expel all these beauty and fashion faux pas.
In a recent survey conducted by CVENT, 45% of women end up with deodorant stains on their clothing when getting dressed.
If that happens to you, MISS OOPS RESCUE SPONGE ($10) should be part of your dresses. With Miss Oops Rescue Sponge, there is no need to wet your clothes.
Just briskly rub the dry sponge against the offending mark and watch it disappear. It's safe to use on all fabrics. The patent-pending sponge comes two to a pack and are reusable. This also works on make-up powder stains on your collar!
Are you afraid to show too much cleavage? You're not alone. According to CVENT, 56% of women avoid wearing certain style of shirts because they fear their cleavage shows too much.
If you feel that your plunging V-neck reveals a little too much, then reach for MISS OOPS BOOB TUBES ($25).
Made of a 95% Rayon, 5% Spandex blend, this modern day bandeau gives you just the right amount of coverage without the added bulk of another layer.
We all love our low-rise jeans but the accidental "cracks" showing when we sit is just too embarrassing.
Not to worry, MISS OOPS JAKS ($38) is here. An absolute must for women who are not willing to give up their low-rise jeans, Jaks is worn over jeans and under tops—much like a shirt extender.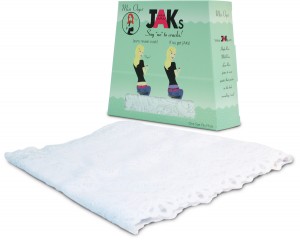 It appears to be a lace camisole layered underneath your shirt- but actually, Jaks is the latest fashion weapon used to cover up butt-crack and muffin tops. Bend over and sit down ladies – Jaks has you covered!
[MARI DAVIS]