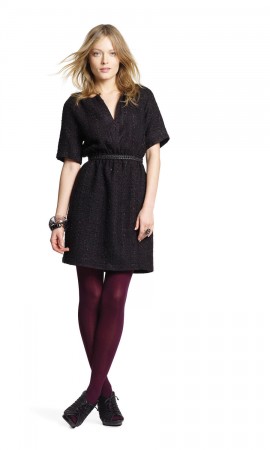 DALLAS, Aug 25, 2010 / — As announced in April, Gaby Basora ofTucker is the next GO International designer. And now, the wait is over with the release of Tucker for Target Collection on target.com/go and at most Target stores nationwide on September 12, 2010.
Known for silk-printed blouses and dresses, not specific to any age, style or state of mind, Tucker is a favorite of fashionistas with a youthful spirit and lifestyle. The exclusive Tucker for Target collection of women's apparel, including tops, bottoms, dresses, outerwear and knitwear, will be available through October 17, 2010.
An eclectic mix of bohemian-chic bold prints and versatile shapes that are ideal for layering, the Tucker for Target collection take into account the cooler fall weather while it keeps your wardrobe vibrant.
Proposing a printed tee paired with a herringbone trench and brocade skirt, while a rust-orange hooded jacket, Tucker for Target makes a chic statement over a magenta flower blouse and herringbone shorts. An assortment of eye-catching graphics including butterflies, polka dots and large florals, paired with spicy hues such as taupe, pumpkin and brick red, transform classic silhouettes into fresh must-haves.
Hard-working, creative, talented, funny, flawed, genuine, unstoppable, mother, wife –Gaby Basora is all of these things and they are the definition behind her Tucker collection.
Geometric and nature-inspired patterns on Basora's signature blouses and flirty dresses act as the foundation for the collection and can be mixed-and-matched with a knit vest for a dose of carefree autumn style.
A black boucle dress with a fitted waist and touch of sparkle, as well as a printed tie-neck blouse worn with a herringbone pencil skirt, make day-to-night dressing as simple as a change of shoes and jewelry. Tucker for Target brings up-to-the-minute fashion and everyday sensibility to the GO International program with easy-to-wear silhouettes that range from $19.99-$79.99.