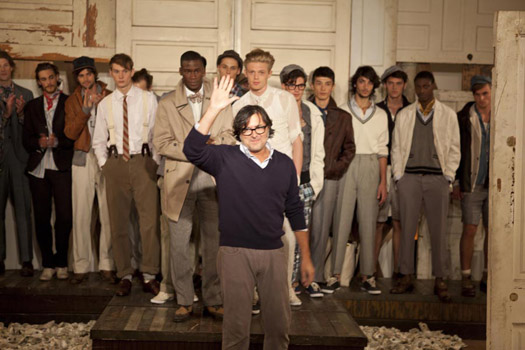 NEW YORK, Sep 10, 2010 / FW/ — The Milk Studios' elevators were crammed with frenzied fashionistos vying to make it up to the eighth floor for the presentations that took place Thursday evening.
Billy Reid was up to his old tricks, with whitewashed barnyard-esque doorframes littered around the set providing a rustically perfect backdrop for the slew of manicured Ken dolls to pose in front of. Reid spared no expense with keeping the aesthetic authentic, shipping pieces from a vacant building in Alabama to comprise the scene.
Guests downed micro-brewed beers and ogled the handsome men—purely for their impeccably styled southern boy ensembles, I'm sure. Looks with names like "Simmons Herbert, eighth-year Tulane undergrad" and "Cooper Forshea, country club lifer" were inspired by Reid's birth state, Louisiana.
Think casually dressed-up red staters, complete with pearl snaps, chinos, linen dress shirts, polos, and chambray suits. K Swiss partnered with Reid for a duck/tennis shoe hybrid and Stetson provided a capsule collection of caps.
Reid seems to always take the cake when it comes to the rustic-prep aesthetic, besting Abercrombie, Hilfiger, and even Ralph Lauren with leaner cuts, forward-thinking designs, and attention to detail.
[ANNIE KREIGHBAUM]
Photos by Bradley Dean, courtesy of Billy Reid
New York Fashion Week Spring 2011