NEW YORK, Sep 24, 2010 / FW/ — Life is not fair! Gisele Bundchen who just had a baby does not even show it! She is as much as the queen of the catwalk today as it was even before she became Mrs. Tom Brady.
Of course, it did not hurt that she was wearing Calvin Klein Collection custom burgundy beaded halter dress designed by brand's Women's Creative Director, Francisco Costa who also attended the BrazilFoundation VIII Annual Gala Benefit at The Metropolitan Museum of Art in New York City held Thursday night.
Brazilian model and TV personality Fernanda Motta also chose to wear Calvin Klein Collection.
She opted for a custom fuchsia one shoulder silk chiffon dress at the BrazilFoundation event.
During the event, Mr. Costa auctioned off the gown Ms. Bundchen donned for the evening for $50,000, all of which will go to support the BrazilFoundation.
At the Lincoln Center, during Mercedes-Benz Fashion Week, Perrey Reeves showed her love for Ranjana Khan!
The actress wore Ranjana Khan throughout Fashion Week!
Perrey was seen donning a Draped Chain and Abstract Crystal Tile Cuff at the Nicole Miller show, Metallic Bullion Ball Drop Earrings at the Catherine Malandrino show, an Agate River Pearl & Crystal Cuff to the Monique Lhuillier show, a Jasper Carnelian Ring to the Reem Acra presentation and Agate Crystal Earrings to the Naeem Khan show.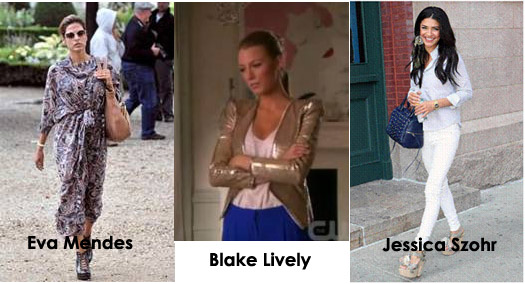 In the other side of the pond, Eva Mendes was stunning in an H&M dress while strolling through Europe. She looked comfortable, stylish and dead on for fall fashion trends – Eva knows how to work this look! Case in point, she accessorized it with a Marni bag!
Additionally, we hope you saw the cover of this week's issue of Us Weekly, showing Kelly Osbourne looking better than ever in an H&M By Night dress! She wore this item in LA for Fashion's Night Out, and looked fantastic.
In TV Land, "Gossip Girl" character Serena (played by Blake Lively) wears an Emilio Pucci gold blazer from the Spring/Summer 2010 Collection in the episode "Double Identity".
And, in the season premiere of "Gossip Girl", characters Van der Woodsen, played by Blake Lively, and Blair Waldorf, played by Leighton Meester, discussed the French fashion label Zadig & Voltaire while having lunch in a Paris café.
In this episode, Serena confesses that "I just happen to have a thing for French waiters—", and Blair jumps in to add "And bartenders. And museum docents. Anyone on a vespa, or bicycle. Or wearing Zadig & Voltaire."
The episode also showcases Serena donning a Zadig & Voltaire straw hat, as well as character Dan Humphrey, played by Penn Badgley, wearing a Zadig & Voltaire maroon shirt.
Back to the real world, "Gossip Girl" cast member Jessica Szohr was spotted wearing a Zadig & Voltaire Skull Watch out in New York City.
[MARGUERITE RUAZOL]