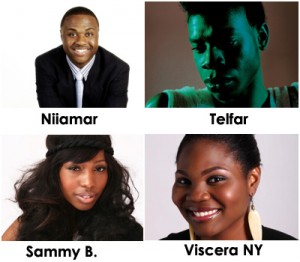 NEW YORK, Sep 3, 2010 / — On September 17th, four emerging designers of color Niiamar, Telfar, Sammy B. and Viscera NY will showcase their collections at Harlem's Fashion's Row (HFR) third annual event.
NIIAMAR
Niiamar Felder captures the true meaning of high fashion. A graduate of Florida A&M University, Niiamar moved to New York and began designing original pieces for several fashion shows and theater productions on the east coast.
Niiamar credits his most impressionable experience to the summer of 2006, where he worked as a design assistant to renowned designer Kevan Hall in Los Angeles, CA. He has also received numerous accolades in the recent years, including the Antoinette M. Humphries Volunteer of the Year Award and Artist of the Month, for his magnificent work as costume designer for the Florida A&M University Essential Theatre.
In 2006, he was nominated for the notable Marvin Sims Design Fellowship in Costume Design, awarded by the Kennedy Center of the Performing Arts. His most recent accomplishments include serving as lead costume designer for the off Broadway productions of Cole Porter's "Kiss Me Kate" (April 2009) and "The Doll Confessions," directed by Tony Award Winner Trezana Beverley (August 09).
www.niiamar.com
TELFAR
Telfar Clemons (born January 21, 1985 in Queens, NY) is a New York fashion designer and creative director of the unisex line TELFAR, as well as the diffusion line UN.DER T. A graduate of Pace University with a degree in business, Clemens began deconstructing and reconstructing vintage clothing, which ultimately led to the beginning of his namesake label TELFAR.
In 2006, Clemens was awarded the Gen Art Fresh Faces of Fashion Award. Based on the need for comfortable sportswear and the desire for individuality, the TELFAR collection focuses on unisex clothes that are sustainable and versatile. A true fashion talent, Clemens has been tapped for exclusive collaborations with American Apparel and Converse.
www.telfar.net
SAMMY B.
Samantha Black is a graduate of Pratt Institute, having earned a BFA with a concentration in fashion design in 2005. While a student, she interned at Jill Stuart and Michael Kors. Upon graduation, she moved to London and worked for Alexander McQueen for several months.
After returning to New York, she began working as a denim designer for a subsidiary of Aeropostale, while simultaneously launching Sammy B., her own line of contemporary women's apparel. Sammy B. designs are a fusion of ultra cool womenswear with a street cred edge. Her line is sold in specialty boutiques nationwide.
www.sammybdesigns.com
VISCERA NY
Sherita Jennings, creator of Viscera NY, is a native of South Carolina. Jennings was admitted into Moore College of Art and Design in Philadelphia, the only all women's design school in the country. During her senior year, she was awarded the Tiffany & Co. Women's Leadership Fellowship, which gave her the opportunity to visit Ghana. There she studied native West African techniques like Kente Cloth Weaving and Adinkra stamping, to incorporate into her final collection at Moore College.
Jennings has also worked for designer Douglas Hanant and was an apprentice to Cynthia Rowley. Today, Jennings has combined her unique fashion perspective and intricate design techniques to create VISCERA NY, a women's ready-to-wear line with luxury appeal.
www.viscerany.com
HARLEM'S FASHION ROW
September 17, 2010 at 8:00 PM
The Studio Museum in Harlem
144 West 125th Street
New York, NY 10027