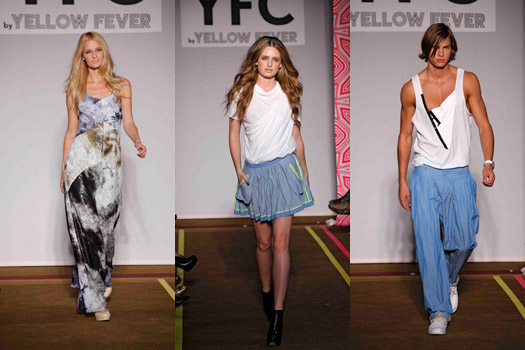 NEW YORK, Sep 26, 2010 / — On September 15th, The Incubator presented Spring / Summer 2011 collections from YFC/ Yellow Fever Creative, Keepme.com and Prince Peter Collection.
The show was held at Capitale (130 Bowery) and featured a special live performance by Foxy Brown.
YFC by Yellow Fever's newest collection is loosely inspired by Axl Rose in his hay day, wearing black leather and hanging with Kelly Bundy in her tight Robert Palmer back-up-girl mini-dress.
The two go on a holiday to Marthas Vineyard and relax until Axl loses his prescription pills, at which point they flee to Japan and run into a neo-techno samurai. These visions are seamlessly integrated to produce a number of wearable and fresh modern metropolitan looks.
Ernest's work attracts a diverse audience of artists, entertainers, and celebrities as well as other key movers and shakers, making him the prime candidate to lead such an initiative.
Cult t-shirt designer Prince Peter draws inspiration from Andy Warhol's eponymous Factory, a creative hothouse during an era when the City was both a muse and a canvas. The collection celebrates all darlings of the underground and harkens back to his rock n roll roots. His fabrics are airy and light and the shirts are easy to tailor, layer, and wear in all seasons.
Keep Me offers a range of can't-live-without and never-take-them-off loungewear in new colors and variations, as well as a Spring 2011 capsule collection inspired by a surfing trip to Taha a, Tahiti. Designers drew from a muted sunset color palette and the barely-there character of the island lifestyle to create pieces that are both comfortable and chic.
New York Fashion Week Spring 2011